Crystal Palace: Club to file accounts after threat of closure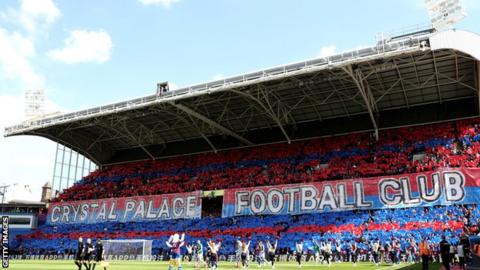 Crystal Palace will file their accounts within the next few days after being warned that failure to do so would lead to the club being closed down.
Palace failed to lodge their figures for 2016-17 tax year by the end of March deadline, and their holding company did not respond to requests for an explanation from Companies House.
A notice for compulsory strike-off will be sent to the Premier League club on Tuesday saying they have two months to respond or the company will be dissolved.
However, BBC Sport understands the delay is down to a technical issue and will be resolved imminently.
In 2015, American investors Josh Harris and David Blitzer completed a deal to take a large stake in the club.
The duo, who already owned the NBA's Philadelphia 76ers and the NHL's New Jersey Devils, joined chairman Steve Parish in control at Selhurst Park.
Analysis
Kieran Maguire, lecturer in football finance at the University of Liverpool
Under company law, companies have to submit their accounts within nine months of the end of their accounting year. For CPFC 2010 limited this deadline was 31 March 2017, and they failed to do this.
The first punishment handed out by Companies House is a fine, followed by the striking-off notice which will be served on Tuesday. All the club have to do is to submit their accounts and the strike off notice will be withdrawn.
It's a bit like being put on the naughty step. My analysis from previous years shows Crystal Palace have healthy accounts and this is nothing to do with them being in difficult financial circumstances. It simply seems to be a case of wilful ignorance or not wanting to comply with the rules.