Graham Potter: Swansea City agree terms with Ostersund FK manager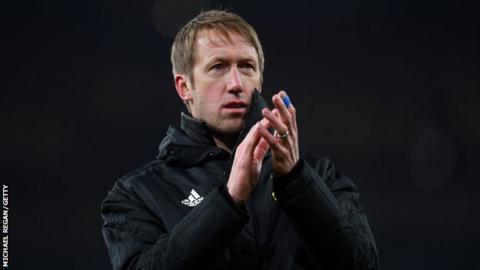 Swansea City are set to name Englishman Graham Potter as their new manager next week after agreeing personal terms and a compensation package.
The Swans have agreed a deal with Ostersund for 43-year-old Potter and his assistant manager Billy Reid.
They have been seeking a manager since Carlos Carvalhal left following their relegation from the Premier League.
Ostersund recruitment analyst Kyle Macaulay will also move to south Wales as part of the deal.
Potter has guided Ostersund from the regional tiers in Sweden to the top-flight Allsvenskan with three promotions, winning the Swedish Cup along the way.
A statement from the Swedish club said: "The club wants to congratulate all three as they face new challenges."
Analysis
Former Swansea City player and coach Alan Curtis
"From the outset Graham was the number one choice and we are all delighted now.
"We all agree, and it was fairly apparent, that we lost our way in terms of style of play in the last couple of years but that is the difficulty when you're at the bottom end of the table.
"We kept chopping and changing managers with managers being brought in to fire fight.
"But Graham will have a good pre-season to work with the players and get his ideas over, including a lot of players who were there through the rise of the club, so they will know the style we are all looking to play.
"I am sure he will be a terrific appointment. It smacks of what we did years ago with Roberto Martinez.
"To some people he was a strange choice when he came in, while Brendan Rodgers was another one that was met with a little bit of trepidation.
"They both went onto be fantastic managers for the club."