Loris Karius: How did Liverpool goalkeeper play on with concussion?
By Alistair Magowan
BBC Sport
Last updated on .From the section Liverpool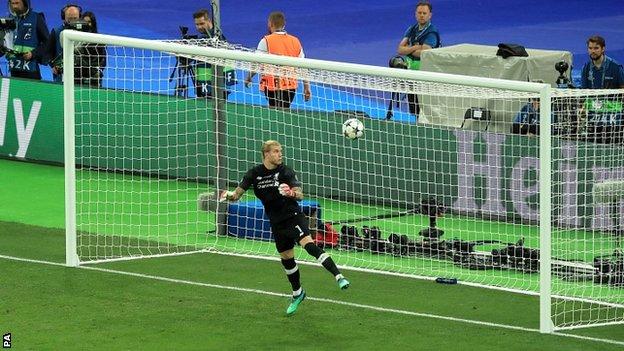 Liverpool's Champions League final defeat by Real Madrid was defined by many factors, but none more so than the two errors by goalkeeper Loris Karius.
Throwing the ball directly at Karim Benzema was bad enough, but he then let Gareth Bale's shot slip through his fingers as well.
But now, perhaps, an explanation has emerged, after the 24-year-old German was diagnosed with concussion by medical experts in Boston five days after the match.
Real defender Sergio Ramos, already cast as the villain by some Liverpool fans for his involvement in the incident that led to Mohamed Salah's injury-enforced withdrawal from the final, collided with Karius moments before his first mistake.
So how did Karius continue the game with concussion, how might it have affected him and why are medics "handcuffed" in their treatment of the problem?
Is this just an excuse?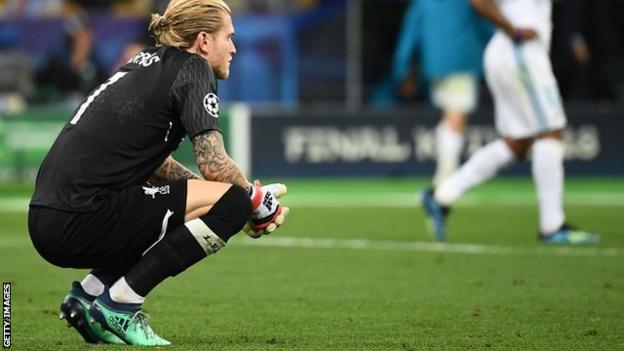 According to medical experts in Boston, no.
The team at Massachusetts General Hospital, which included leading NFL head injury expert Dr Ross Zafonte, concluded it was "possible" the injury "would affect performance".
Zafonte added that Karius had suffered from "visual spatial dysfunction", a process which hampers a person's ability to process visual information about where objects are in space.
Meanwhile, the fact that Karius did not show any symptoms during the game is "not surprising", according to British neurosurgeon Dr Willie Stewart, who has been at the forefront of improving assessment of head injuries in sport and is leading a new study into the links between heading footballs and head trauma.
"People tend to associate the signs of concussion with a loss of consciousness or staggering around. But for many, concussion symptoms can quite easily be missed by the medical team, referees, team-mates and the player," Stewart tells BBC Sport.
"It can take hours and days for symptoms to develop, which is why we try to promote a very low threshold for concern so that if there is any doubt that a player is concussed they should be removed from the field of play."
Could the medical team have done more?
Despite Ramos' collision with Karius being looped endlessly on social media, the incident was missed by many in real time, including the Liverpool medical team.
Karius made a complaint to the referee, who took no action, but appeared to show no signs of injury and did not receive any treatment during the game.
Once there was an issue, Liverpool referred him to a hospital which has close links to the club's Boston-based owners. The German was already on holiday in the United States at the time.
"I don't think they had much to work with at all," says Stewart of Liverpool's medics.
"It's only with the benefit of hindsight you go back and say maybe that slight blow could have been a significant injury, maybe it's something else that we don't know about.
"In a fast-moving game where something fairly innocuous seems to happen it can be difficult to spot. What we are trying to encourage is if you see a player who is not behaving as they might be expected to, that's where suspicion should be raised.
"Maybe it could be argued that the two significant errors [by Karius] should have drawn attention to people on the sidelines that something wasn't quite right.
"But football is operating in the last century in terms of brain injury management, when the rest of sport has moved on. The medical staff don't have a good opportunity to check the player properly and check the video about what might have happened."
Did the concussion lead to Karius' errors?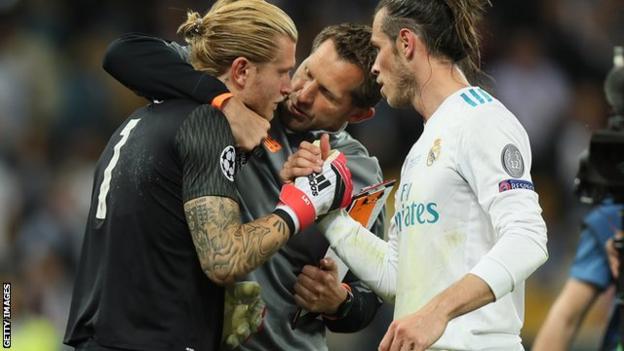 Only a few minutes separated Karius' collision with Ramos and him gifting the ball Benzema, leading to the first goal.
Were the two incidents directly linked?
"I can't say about the case specifically," Stewart adds. "But what I can say is that one of things that happens to people with concussion is deep down in the brain the very fine nerve fibres get damaged, and the fibres that come from the eyes and spread to the brain are in the area where damage can occur.
"So it's not that unusual for people with concussion to have subtle visual symptoms, such as the eyes not moving as quickly as they should or not focusing as well as they should. You get a sense of double vision or difficulty tracking objects and that can lead to problems in a fast-moving match."
Bale's second goal might have been straight at Karius, but it was certainly moving and potentially difficult to track.
No-one will know if it was concussion or the pressure of the match that led to Karius' mistakes from an objective point of view.
That is part of the problem, says Stewart, as diagnosis relies on someone's opinion.
"There are no objective diagnostic tests," he adds.
Why are medics being 'handcuffed' on concussion?
Football is not alone in having to deal with this growing problem.
English rugby union's latest annual injury audit showed concussion was the most reported injury for the sixth successive season in 2016-17.
But Stewart says that despite greater resources, football is lagging behind other sports that have chosen to modernise by having video screens to check on any potential head injuries.
New head injury measures were introduced by European football's governing body Uefa in 2014 which said the game can be stopped for up to three minutes for a head injury assessment and only a doctor can decide whether a player should continue or not.
Premier League rules were also updated in 2014 after Tottenham received criticism for allowing goalkeeper Hugo Lloris to continue playing after losing consciousness.
"In terms of its immediate pitchside management and the way the medics are left to deal with this, they are handcuffed," says Stewart.
"Football doesn't allow an interchange for a player to be assessed to see if he has a brain injury; doesn't allow significant time for the medics to assess the player; doesn't have a video review of events to be able say if there was a glancing blow on my goalkeeper's head which I didn't notice.
"It's unacceptable in 2018 that it should be this way."