Gianluigi Buffon banned for three matches over referee comments
Last updated on .From the section European Football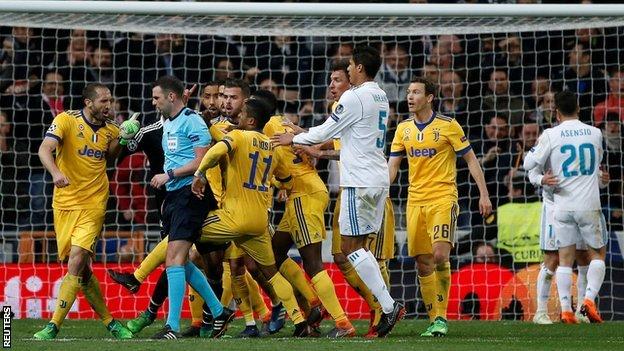 Goalkeeper Gianluigi Buffon has been banned for three European matches by Uefa for his comments about referee Michael Oliver after Juventus' Champions League defeat by Real Madrid.
Buffon was sent off for dissent after Oliver awarded Real a penalty late in the quarter-final second leg in April.
After the match, the Italian said Briton Oliver had "a bag of rubbish" rather than a heart.
Buffon played his last Juventus game in May after 17 years at the club.
Buffon also said Oliver should "sit in the stands" and "eat crisps".
The charges relate to his "direct red card" and for breaching Uefa's "general principles of conduct".
Juve's Medhi Benatia brought down Lucas Vazquez, and Ronaldo scored the 97th-minute penalty as Real won 3-1 at the Bernabeu to progress 4-3 on aggregate.
Buffon later told Italian TV: "The content remains and I stand by all of it. I'd say them all again - maybe with a different type of language."
Oliver and wife Lucy were offered police support after both were targeted on social media, with police also investigating threatening text messages.
What did Buffon say?
Immediately after the game, Juventus captain Buffon said: "It was a tenth of a penalty.
"I know the referee saw what he saw, but it was certainly a dubious incident. Not clear-cut.
"And a dubious incident at the 93rd minute when we had a clear penalty denied in the first leg, you cannot award that at this point.
"The team gave its all, but a human being cannot destroy dreams like that at the end of an extraordinary comeback on a dubious situation.
"Clearly you cannot have a heart in your chest, but a bag of rubbish. On top of that, if you don't have the character to walk on a pitch like this in a stadium like this, you can sit in the stands with your wife, your kids, having your drink and eating crisps.
"You cannot ruin the dreams of a team. I could have told the referee anything at that moment, but he had to understand the degree of the disaster he was creating.
"If you can't handle the pressure and have the courage to make a decision, then you should just sit in the stands and eat your crisps."