Cameroon close in on Women's Africa Cup of Nations qualification
Last updated on .From the section African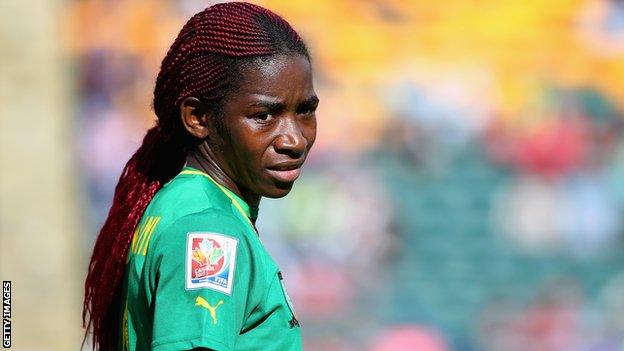 Cameroon, Zimbabwe and reigning champions Nigeria are all on the verge of qualifying for this year's Women's Africa Cup of Nations in Ghana.
All three recorded away wins in the first legs of their final round qualifying matches on Wednesday.
The biggest winners were 2016 runners-up Cameroon who beat Congo 5-0 in Brazzaville.
Zimbabwe beat Zambia 1-0 and that was the same score for South Africa over Lesotho and Nigeria against The Gambia.
Algeria and Kenya both won at home while Ivory Coast were held to a 2-2 draw by visiting Mali.
Cameroon's Indomitable Lionesses beat Congo thanks to goals from Therese Abena, Norway-based Ajara Nchout Njoya, Madeleine 'Manie' Ngono, Grâce Yango and Gabrielle Aboudi.
The second leg of the tie will be played on Saturday in Yaounde.
Eight-time winners Nigeria earned a narrow 1-0 win in The Gambia with the only goal of game coming after 19 minutes from Okoronkwo Amarachi.
The second leg is set to be played on Monday in Lagos.
A first-half goal from Rutendo Makore sealed the win for Zimbabwe in Lusaka over Zambia, the two meet again on Sunday in the deciding tie.
South Africa's narrow 1-0 win over Lesotho came from a ninth minute goal from Leandra Smeda who scored with a curling shot.
The two teams will meet again on Sunday in Bloemfontein to decide who will qualify for the finals later this year in Ghana.
Kenya earned a 2-1 win over Equatorial Guinea, the only other team apart from Nigeria to have won the continental women's title.
Equatorial Guinea were originally banned from the 2018 and 2020 tournaments for fielding a player who had submitted conflicting paperwork in the past however they were reinstated in July last year by the Confederation of African Football.
The visiting Equatorial Guinea had taken the lead through a Boho Sayo header which was cancelled out by a 35-yard thunderbolt from Tereza Engesha.
Esse Akida came off the bench to snatch a crucial win for Harambee Starlets as they beat the two-time champions.
Malabo will host the second leg on Saturday.
Algeria were the other winners on Wednesday with comfortable 3-1 win over Ethiopia in Algiers.
The Ethiopians opened the scoring through Biza Rahima before Ramdani Madina, Sidhoum Assia and Sekouane Fatima scored for Algeria.
The second leg will be played on Sunday in Addis Ababa.
The seven overall winners of the seven ties will all qualify to join hosts Ghana at the Women's Africa Cup of Nations in November.
The top three from the Nations Cup will then qualify for next year's Women's World Cup in France.
Final round first leg results:
Zambia

0-1

Zimbabwe

Lesotho

0-1

South Africa

Congo

0-5

Cameroon

The Gambia

0-1

Nigeria

Ivory Coast

2-2

Mali

Algeria

3-1

Ethiopia

Kenya

2-1

Equatorial Guinea