Premier League TV rights: Amazon to show 20 matches a season from 2019-2022
Last updated on .From the section Premier League879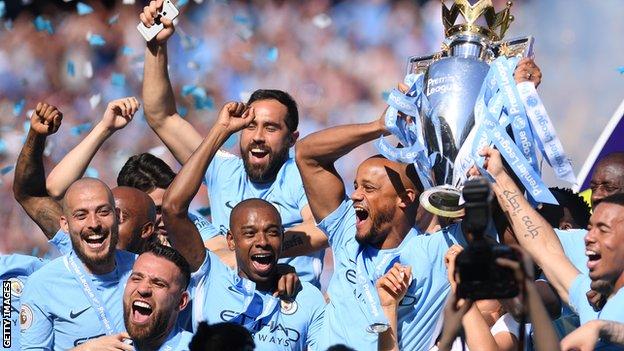 Amazon will show 20 Premier League matches a season for three years from 2019, after winning one of the final two broadcast packages.
The online streaming service won the rights to show every game from the first round of midweek fixtures in December and all 10 matches on 26 December as part of a three-year deal.
The matches will be available free to Amazon Prime's UK members.
The other unsold package of 20 games was bought by BT Sport for £90m.
That takes its total number of games to 52 per season, while a further 128 will be shown by Sky Sports, including prime-time Saturday night fixtures.
Premier League executive chairman Richard Scudamore - who later announced he would be stepping down by the end of the year - described Amazon as an "exciting new partner".
The new deals mark the first time a full round of matches will be shown live in the UK.
The Football Supporters' Federation (FSF) has criticised the deal, expressing its "concern" at the impact on away fans.
It said in a statement: "Fans are already of the view that there is too much live football on TV and this announcement concludes a deal that has pushed the number of broadcast games to record levels.
"The main driver for this increase has been the 2016 ruling by Ofcom which has directly led to this increase. Introducing a third broadcaster into the mix just means more subscriptions for fans.
"We are concerned that the number of broadcast games could have a negative effect on attendances by away fans in particular.
"It is vital that more of these television revenues are invested in guaranteeing the participation and contribution of match-goers."
How can I watch these games on Amazon?
You will need a Prime membership, which costs £79 a year or £7.99 a month.
In addition to live action, there will also be weekly highlights of all Premier League games throughout the season, although it has not been announced when that will be broadcast.
Prime can be streamed on any Smart TV, mobile device or through an Amazon Fire TV Stick.
Amazon, which started as an online retailer, already broadcasts the US Open tennis, ATP World Tour Tennis events and NFL games.
Who has won what?
The Premier League offered 200 live matches a season to broadcasters, an increase from the 168 available in 2015.
Other changes for the 2019-2022 deal include eight individual games being shown live in a 'prime-time' Saturday night slot, three complete rounds of 10 midweek matches all shown live, and one set of bank holiday games - now known to be 26 December.
The broadcasters bid on seven packages of fixtures and, in February, Sky Sports paid £3.58bn for four of those, while BT Sport spent £885m on another.
BT initially said it had paid £90m for its final package, which will involve a round of matches around the mooted winter break in late January or early February.
That would take its total spend to £975m over three seasons, although that information was later removed from its website.
That being so, the total value of the rights is taken to £4.55bn, with Amazon yet to announce how much it has paid.
The Premier League's last deal, agreed in 2015 and running until 2019, was worth £5.14bn.
What are the packages?

Package A - won by BT

32 matches on Saturdays at 12:30

Package B - won by Sky Sports

32 matches on Saturdays at 17:30

Package C - won by Sky Sports

24 matches on Sundays at 14:00 and eight matches on Saturdays at 19:45

Package D - won by Sky Sports

32 matches on Sundays at 16:30

Package E - won by Sky Sports

24 matches on Mondays at 20:00 or Fridays at 19:30/20:00 and eight matches on Sundays at 14:00

Package F - won by Amazon

10 matches from one Bank Holiday and all 10 from the Boxing Day fixture programme

Package G - won by BT

20 matches from two midweek fixture programmes
Premier League clubs have also agreed a new deal over sharing revenue from international broadcast deals, which will see any future increases divided according to league position.
Revenue is currently shared equally among the 20 clubs, but the bigger clubs had been pushing for a greater share of the money, arguing they are the main attraction for foreign viewers.
'Most internet companies didn't take bait' - analysis
BBC sports news correspondent Richard Conway
These two remaining packages of rights were specifically designed to appeal to internet giants such as Amazon, Netflix, Apple, Facebook and Google as online streaming continues to rise in popularity. The only problem is most of those companies failed to take the Premier League's bait.
Now, some four months on and following extended negotiations, a deal has been struck with Amazon and BT Sport. However, the entire auction has fallen short of the Premier League's hopes on revenue.
Rob Wilson, football finance expert at Sheffield Hallam University
It makes complete sense for one of the online streaming services to pick up a Premier League package. The infrastructure and market potential needs testing and this gives Amazon an early mover advantage. They can test the concept at a lower cost to see what audiences they can generate.
For customers it means an additional subscription should they want to consume everything. The Sky-BT stranglehold was always going to break up with so many packages being offered, so customers now face three subscriptions to pay for.
Will it spread the existing market more thinly? That remains to be seen. Sky, in particular, will be watching their subscription numbers closely.