Paul Tisdale: New Milton Keynes Dons manager wants long reign at club
Last updated on .From the section MK Dons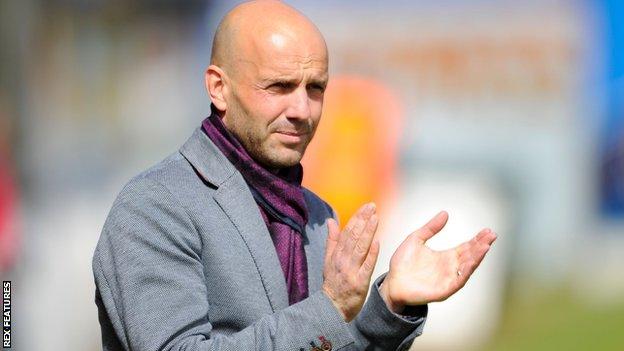 Paul Tisdale says he hopes he can have a long reign as MK Dons manager.
"I've not been that person to jump around and move from one job to another," he told BBC Three Counties.
"Once I become attached to a club, once I start to live and breath that personality, I become entwined in the way it works - it becomes my club."
Tisdale is the 10th man to take charge of the club on a permanent basis since they were controversially founded in 2004 from what was the old Wimbledon FC.
Only Karl Robinson, who was manager for 346 games between May 2010 and October 2016, has been at the helm for more than 18 months.
"He's here for the long haul," said chairman Pete Winkleman.
"He's not a jobbing manager. He's not trying to take loads of other clubs and trying to fit that into our DNA.
"He's got amazing amount of experience and he can bring that to help build our DNA."
'I'm not going to throw the baby out with the bathwater'
Tisdale ran supporter-owned Exeter City on a tight budget and brought through a host of young players that went on to play at higher levels and internationally.
He says he has a good budget for League Two but will be sensible with how he spends his new club's money.
"I'm not just going to spend money for the sake of it, and also it's not my money, it's somebody else's money," he said.
"I've not wasted a penny in my previous job and I don't intend to here.
"But I'm also not going to throw the baby out with the bathwater.
"There might be some very good people here who will become very good colleagues, players who will become very good players, who already are good players, and I'm not going to look beyond them straightaway.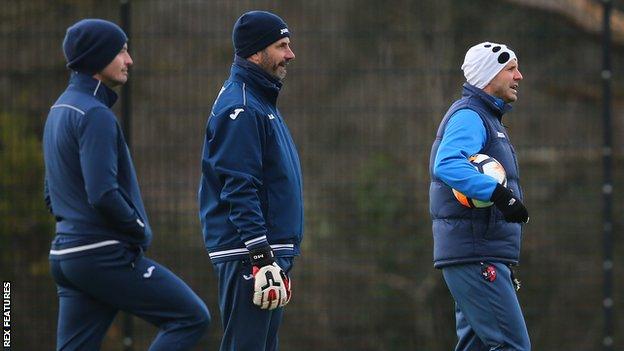 "I just want to make a sensible view of things in the first couple of months. I'm certainly not intending to make any rash decisions.
"We have to continually think about winning the next game, but not take our eye off the opportunity to bring players through, develop players for next season."
Promotion aim
MK Dons fans have certainly had a rollercoaster ride over the past few seasons.
Promotion to the Championship under Karl Robinson came in 2015, but they were relegated a season later and dropped to the fourth tier last month after finishing second from bottom of League One.
"Ultimately the club requires, the stadium requires, the ambition requires promotion," added Tisdale.
"We all know where we want to go. It's perfectly attainable, but a couple of relegations in the last two or three years, a team that's been bereft of positive, successful winning runs and periods in a season, it's going to be a tough ask to suddenly ask those players, and new players, to fit together and become unbeatable overnight.
"We'll be trying to do it, but we all know that the ultimate target, and my brief, is to get MK promoted and then promoted, and then the world's your oyster."