Gary Rowett: Stoke City manager looks to inspire Potters to atone for relegation
Last updated on .From the section Stoke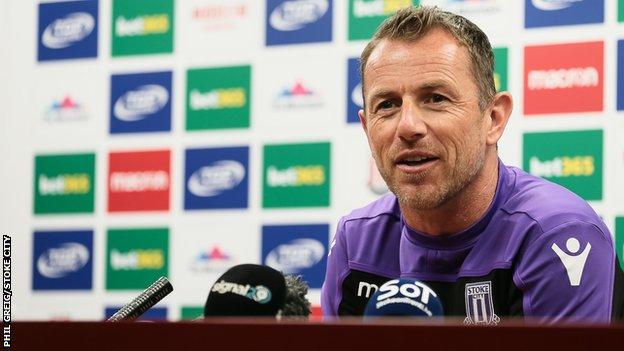 Stoke City's players are determined to make amends for a miserable 2017-18 season and secure an immediate return to the Premier League, says new manager Gary Rowett.
The Potters lost half their 38 league games and managed just seven wins as they were relegated to the second tier.
Rowett, 44, told BBC Radio Stoke: "I want to get promotion - it is as simple as that.
"We have a great chance to try for that."
Two of Stoke's biggest stars, captain Ryan Shawcross and midfielder Joe Allen, have stated their intention to stay.
And Rowett, who left Derby County to take over from Paul Lambert last month, is hoping several other big-name players will follow suit.
"A lot of the players have spoken publicly about their desire to atone for what happened last season," added Rowett.
"Not many players these days will say that but there has been an air of that around the club. It shows how good the club is and how good the character of those players is.
"You want to keep the likes of Ryan Shwcross and Joe and so it's good that they want to stay. If it can be done it will be a fantastic start.
"If they have the character and mentality we are looking for, then they also have the ability and you have to have that blend in the Championship."
Rebuilding and a sense of responsibility
Rowett expects to see plenty of changes in the summer, even if he manages to keep hold of Allen, Shawcross, England international goalkeeper Jack Butland and playmaker Xherdan Shaqiri, who has been linked with a move to Liverpool.
He also said a "lack of numbers in forward areas" would have to be addressed but would not directly comment on reports that Benik Afobe was a prime target, just days after rejoining Wolves from Bournemouth.
"If I had to predict I would say it will probably end up being quite a big rebuild because there will be a lot of players who want to play in the Premier League," said Rowett.
"Not every player will feel that responsibility and want to get the club back there. Some players will want to move on.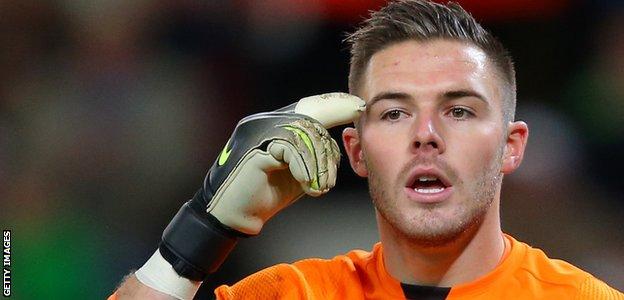 "If a deal makes financial sense and a player wants to leave then for me it is a very, very easy decision.
"But there is an opportunity to build something and put my stamp on it very early and that excites me.
"Of course we want Jack's quality in the team. There may be opportunities over the summer that may be of interest to him but he is a terrific goalkeeper and we would love to have him next season."
Substance over style
Rowett has been criticised for being too defensive during his managerial career at Burton Albion, Birmingham City and Derby.
But he insisted he looks to evolve teams and remain flexible - and said describing him as defensive minded was "lazy".
"We want a team that creates lots of chances but is hard to score against and a team that the fans can be proud of," he added.
"I want players who are driven, unselfish and want to work as a group to be successful.
"My teams score goals. We want to put players on the pitch that will inspire the fans."
An affinity for Stoke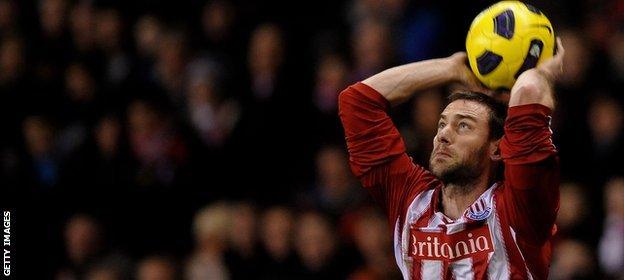 Rowett said he hopes to finalise his backroom staff "within a week or so", with former Stoke star Rory Delap one of his main targets.
Delap, 41, played more than 200 games for the Potters and worked with Rowett at Derby, where he has been part of the coaching team since 2015.
"I am looking for good people, and maybe someone with an affinity for Stoke," said Rowett.
"Rory is someone that I have spoken to with a view to hopefully bringing him along with me, but I am also respectful that he is working at Derby at the moment so we will see."
Rams rethink and Potters pull
Rowett served Derby as a player, coach and manager - but, although he lived in the area and his link made him a popular appointment, he left after just 15 months in charge.
His departure came less than six months after Stoke first expressed an interest and left many Rams fans unhappy with the nature of his exit so soon after signing a new contract.
Derby owner Mel Morris had stated that Derby's big-spending of recent seasons would have to stop because of Financial Fair Play, a factor that Rowett suggested contributed to his decision to quit.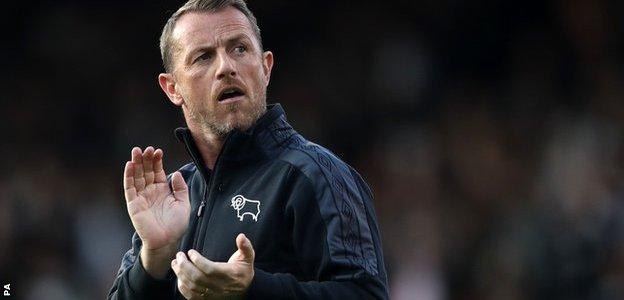 Rowett said it would not have been the "right thing to do to" to leave mid-season.
"But when the season is finished I look at a club that wants to be incredibly competitive to get back to the Premier League," he added.
"It has been in the Premier League for the past 10 years, so it has a quality of players there already. It's a really exciting project.
"It was a big decision to make but a challenge I want to take on. I made a decision [to leave] that was no one else's decision but mine. I wish them every success for the future."
Analysis
Graham McGarry, BBC Radio Stoke sports editor
Gary Rowett was very impressive - a breath of fresh air. He was knowledgeable, upbeat, confident, honest and open, and came across as knowing exactly how he wants to run the club.
He outlined that he is the main man. He will listen but it will be Gary Rowett making the decisions.
There seems to be no chance of any grey clouds hanging around after relegation. He was positive and only wants players with the right character and mentality. He knows they have the ability.
Rowett said he knows having good financial support doesn't guarantee anything but bringing a unity and togetherness that was missing last season will be vital. There was no putting fault anywhere, just a determination to look forward.