Nigeria coach Genrot Rohr sees positives in friendly defeat
By Oluwashina Okeleji
BBC Sport, Bad Tatzmannsdorf - Austria
Last updated on .From the section African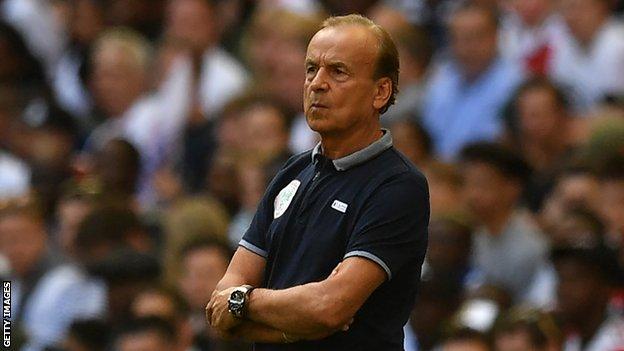 Nigeria coach Gernot Rohr saw plenty of positives from his side's 1-0 friendly defeat by the Czech Republic on Wednesday.
He has promised that his players will deliver better performance against Croatia at the World Cup on 16 June.
Despite losing three of their last four warm up games and drawing the other, Rohr is focusing on the World Cup.
"We lost again another match, everybody is angry about it and this anger is positive," Rohr told BBC Sport.
"After we won against Argentina in a friendly [in November], everyone talked about us reaching the semi-final and now the results now has humbled those voices.
"Because we need humility, it is helping us. We also need solidarity and hard work. Everybody understands this after the defeat to Czech Republic."
The three-time African champions looked lethargic during the opening half of their loss to the Czechs, but played with more intent after half-time in their final warm-up match.
Wednesday's loss followed a 2-1 defeat on Saturday to hosts England at Wembley, before that the Super Eagles drew 1-1 with DR Congo and lost to Serbia 2-0.
The Super Eagles last win was in March as they beat Poland 1-0.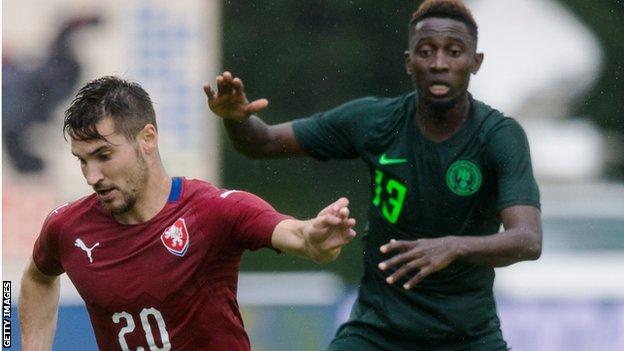 Rohr also pointed to the fact that Leicester midfielder Wilfred Ndidi, who had been out since April with a hamstring injury, is once again fit.
"We also had some positive lessons especially with the return of Ndidi. He has not played for two months," Rohr said.
"It was very important to see him playing again. Normally, he should play 70 minutes but could play 90 minutes which is very good.
"The medical team did a great job. Now Ndidi will be fit for the World Cup."
Both winger Ahmed Musa and defender Abdullahi Shehu are the only players in the team observing fast for the Muslim holy month of Ramadan.
During Ramadan, Muslims are required to abstain from food, liquids and intimacy between sunrise and sunset.
The aim is to increase spirituality and religious observance through longer prayers and self-control, as Ramadan is seen as an opportunity to replenish one's spirituality.
Rohr insists he respect both players and has held special sessions for them.
He added: "We have special training for them and we have to respect them. It is not easy because they don't have the same energy like others.
"They don't play 90 minutes. Shehu played only 45 minutes but did well. We are also trying to avoid injury.
"The physical Czech was a good test for Shehu. We have to observe another 10 days but by the first game the Ramadan will be finished and we will be ready."
Nigeria will face Argentina, Croatia and Iceland in Group D in Russia.