World Cup 2018: 'England head for Russia with a rare sense of serenity'

By Phil McNulty
Chief football writer
Last updated on .From the section England585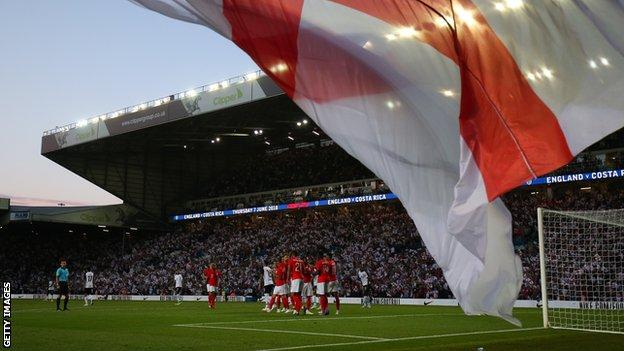 2018 Fifa World Cup on the BBC
Host:
Russia
Dates:
14 June - 15 July
Live:
Coverage across BBC TV, BBC Radio and BBC Sport website with further coverage on Red Button, Connected TVs and mobile app.
Full details
"We are mates going away to play in a World Cup. It's fantastic."
England's World Cup preparations concluded with an impressive victory over Costa Rica at Elland Road, and Gareth Southgate's squad will fly to Russia fuelled by a mixture of cautious optimism and measured expectation.
Man of the match Marcus Rashford insisted "anything is possible" after a fine team performance which elicited a positive response from a raucous Yorkshire crowd.
The 2-0 win was the latest marker in what has been an unusually serene World Cup build-up for England, so far devoid of injury dramas, tabloid scandals or selection sagas.
Whereas Southgate's predecessors have found themselves fretting over metatarsals, asking long-retired players to return and becoming embroiled in off-field issues, the 2018 preparations have gone smoothly and have fostered an air of positivity.
So are England right to be heading to the World Cup in upbeat mood after their failure at Brazil 2014, and the embarrassment of an exit to Iceland at Euro 2016?
Southgate's clarity replaces predecessors' muddled thinking
In 2010, Paul Scholes was asked to come out of retirement six years after his last England appearance (a request he rejected), while Jamie Carragher did return after also calling time on his Three Lions career.
Six years later, all-time record goalscorer Wayne Rooney was moved into a midfield role for Euro 2016 at the last minute - another example of a late change by a manager hinting at a sense of desperation.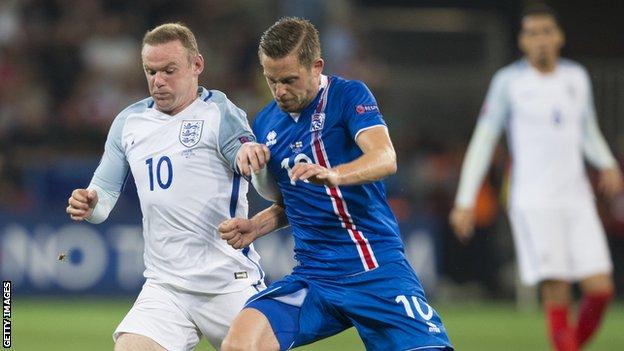 There has been no such muddled thinking from Southgate. He may have made 10 changes from the team that beat Nigeria 2-1 at Wembley - but this was a selection made with a view to giving players a chance to impress, which Rashford did superbly, and ensuring all the members of his squad are at the peak of fitness when they leave for Russia on Tuesday.
Not a muddled thought in sight.
All the indications are the manager knows exactly where he is taking this team and what system he will be utilising in Russia.
Southgate has been fine-tuning for 12 months, convinced a three-man backline is England's best method to achieve success in Russia, not only in tackling the opposition but bringing the best out of his squad.
The personnel, although Kyle Walker and John Stones look certain starters, has yet to be revealed publicly but Southgate has the appearance of a man who knows in his own mind exactly who will face Tunisia in Volgograd on 18 June, though he did concede he might have to sleep on a few selection dilemmas after Thursday's positive performance.
It is in stark contrast to Roy Hodgson at Euro 2016, when the final friendly before the tournament hinted at the tactical confusion to come in France.
England struggled to a late win against 10-man Portugal at Wembley, but of greater significance was a wildly experimental system that used Harry Kane and Jamie Vardy - with 49 Premier League goals between them as strikers for Tottenham and champions Leicester City that season - to provide width and Dele Alli shunted out of position to the left.
Southgate has options to ponder but there is no sign of the left-field ploys that seemed to disrupt Hodgson's thinking before and during Euro 2016.
Everton's Jordan Pickford will be his goalkeeper and he will understandably weigh up the delicate balances between solidity and creativity in midfield, where Eric Dier and Jordan Henderson may end up fighting for one place on occasions.
Southgate's combination of clarity of thinking and flexibility when demanded is a plus.
England's adult approach off the field
The sight of England's 23-man World Cup squad all set out in "speed dating" format and available for media interviews at St George's Park's in the build-up to the friendly with Costa Rica was a major departure - the Football Association calling it a "Super Bowl twist" on the traditional approach.
And while all is invariably sweetness and light before a ball is kicked in anger - or a game lost amid disappointment - before the start of any England campaign, the open-house policy was also a sign of a manager and squad at ease with themselves.
Gone is the iron grip of the Fabio Capello regime, or what eventually descended into embarrassment under Hodgson. Southgate - aided by the FA - has adopted an adult approach both with his players and the media.
Raheem Sterling was happy to appear and talk maturely about a busy week of headlines after it was revealed he had a tattoo of a rifle on his leg, while Tottenham defender Danny Rose spoke openly and emotionally about being diagnosed with depression he says was triggered by injury and family tragedy.
Elsewhere, England squad members were all happy to take part in an open-media inquisition that would have been unthinkable not so long ago.
No-one should fool themselves - the happy ship can hit the rocks quickly should events take a turn for the worse in Russia.
But the off-field impression - and the fact Southgate has used all 23 players in these two friendlies - means this England camp is a particularly harmonious one.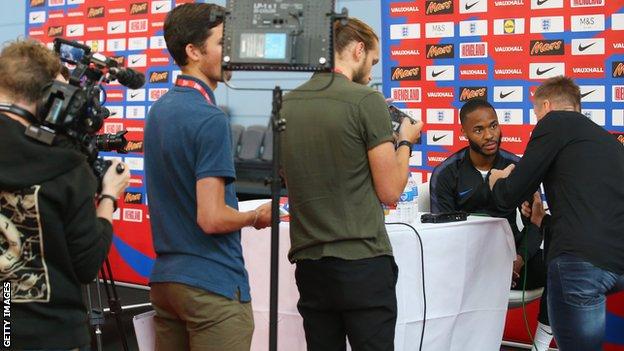 Southgate learning from personal experience
Southgate has grown visibly into his role as England manager following his appointment in the wake of the 67-day Sam Allardyce debacle that followed Hodgson's resignation at the end of Euro 2016.
He has talked about learning the art of "calm leadership" from Euro '96 manager Terry Venables; Southgate's players will not be in danger from crockery but he exerts authority through respect for his methods and personality.
During his 57-cap career, Southgate also played under Glenn Hoddle at the France '98 World Cup, Kevin Keegan at Euro 2000 and was in Sven-Goran Eriksson's squad at the 2002 World Cup in Japan and South Korea.
He has avoided the pre-tournament drama that befell the likes of Hoddle, when Paul Gascoigne trashed his room after his 1998 exclusion, and the farce of the Capello Index in South Africa in 2010, when the then England manager became involved in a ratings website that could have bizarrely ended with him providing data on his own players.
And Southgate is not the "yes man" of some perceptions. He initially declined the chance to take over as caretaker manager after Hodgson's departure, waiting until he felt the time was right, and while he has never been seen to rant, he is well aware of the power of well-chosen words.
He rightly bridles as the lazy "too nice" tag that is often attached to him. You do not have the career Southgate has had without inner steel and a single-minded streak.
Indeed his finest soundbite came after England lost their 2002 World Cup quarter-final to Brazil in Shizuoka. Southgate, reflecting on Eriksson's oratory, said England "needed Winston Churchill but got Iain Duncan Smith".
Importantly, he has removed any excuse culture, giving short shrift to a perceived issue experienced by England teams at previous tournaments.
The ill-fated 2010 World Cup campaign in South Africa featured players complaining of boredom behind the gates of 'Camp Capello' at the Royal Bafokeng Sports Campus in Rustenburg.
"I think it is sad, nonsense and a big red herring," said Southgate, brutally dismissing the notion boredom at their Repino base this time around could contribute to failure.
"My old physio at Aston Villa used to say that only boring people got bored.
"There is an energy in the group, there is always something going on. Previously the issue may have been cultural.
"Pressure is what you perceive it to be and is influenced by what you read and watch. We had some guys in from the Marines who had lost limbs. What is the pressure on us?
"We're going to a World Cup, the highlight of everyone's career. We are mates going away to play in a World Cup. It's fantastic."
The proof will only come with results in Russia and that judgement is about to be delivered - but again the signs, at this stage, are good.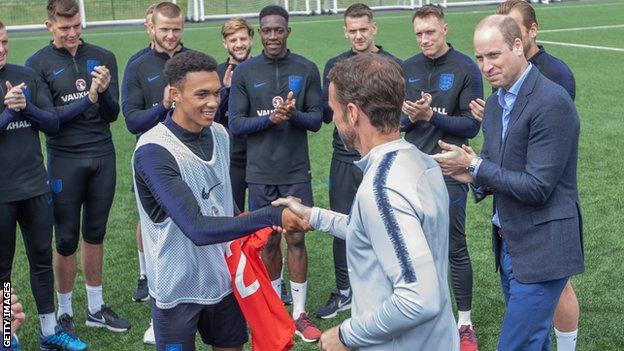 The England verdict
The rousing reception England received after their fine farewell before the serious business begins was symbolic of the mood around the squad as they get ready to pack their bags for Russia.
England's players and manager look relaxed and confident, not fearful of the task that awaits them at the World Cup.
Southgate has a squad with plenty of youthful enthusiasm, not scarred by previous failures, and one that seems to be growing in confidence. The cautious optimism is justified.
England will depart on Tuesday with realistic expectations about what they can achieve, particularly knowing that a second-round tie against one of Poland, Japan, Colombia or Senegal awaits if they escape Group E.
Southgate has attacking options that will be a genuine threat but old questions remain unanswered about England's defence against opposition of the highest class.
England, however, should expect to navigate their way out of a group containing Tunisia, Panama and Belgium and - Iceland-style debacle notwithstanding - could reasonably set their sights on the last eight.
No-one would seriously talk up England as potential World Cup winners - although Southgate's players have every right to say otherwise - but they can leave for Russia with quiet confidence.