Government 'open' to safe-standing, says Sports Grounds Safety Authority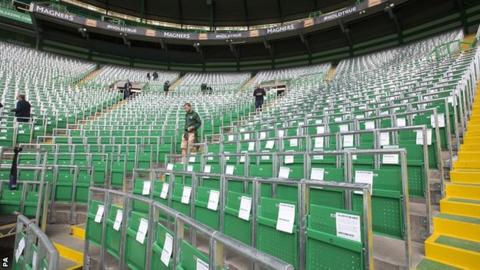 The government is still open to safe-standing despite rejecting West Brom's plans for rail seating, according to private emails seen by BBC Sport.
Sports minister Tracey Crouch said there were no plans to change the all-seater stadium policy after Albion applied for 3,600 new rail seats.
But the Sports Grounds Safety Authority (SGSA) said the government's decision was not "a blanket decision".
It added: "A club with a different ask may get a different response."
The all-seater stadium law was introduced followed recommendations made in the Taylor Report into the 1989 Hillsborough disaster, which claimed the lives of 96 Liverpool fans.
But Labour has announced its backing of safe-standing as a result of "in-depth consultation with football clubs, fans and safety authorities", shadow sports minister Dr Rosena Allin-Khan said.
The issue will be debated in Parliament on 25 June.
Why was West Brom's proposal rejected?
Following a Freedom of Information request, BBC Sport has seen a letter sent by Crouch to the SGSA on 14 March where she said she "was not convinced by the arguments" West Brom had made, even though the club was attempting to tackle persistent standing.
She added that allowing rail seating would be "contrary" to the existing all-seater policy, and if assent was given, other clubs would have "legitimate expectation" that they could follow suit.
West Brom had attempted to introduce what they called a pilot scheme to convert seats for next season.
And in an email seen by BBC Sport, the proposals were deemed to be safe by the SGSA.
But in subsequent emails, SGSA chief executive Karen Eyre-White said the "short timescale" and questions over "the permanent nature of the installation" had contributed to the government's decision.
Despite that rejection, she said that a different version of rail seating - so-called Grand Standing - would be discussed in the future "as a possible third way".
Eyre-White added: "That would allow some of the safety risks of persistent standing to be mitigated without requiring a change to alter the all-seater policy."
What's the story so far?
West Brom's director of operations Mark Miles, who has led the club's proposal, described the decision to reject plans for altering the Smethwick End at the Hawthorns as decision as "surprising" and "disappointing".
Miles has travelled to Scottish champions Celtic and German club Hoffenheim, where the same system is used and the seats can be locked in an upright position.
He called Crouch's decision "short-sighted" and as "preventing the club from creating a safer environment for supporters".
Miles added: "The system we proposed is well tested across Europe and has also worked successfully at Celtic, who are governed by different legislation than in England and Wales."
A spokesperson for the Department for Digital, Culture, Media and Sport (DCMS) said in a statement: "Over a million people watch football every week and we are grateful for the engagement of fans from across the country in expressing their views.
"We are looking into any changes that may be needed, are in discussions with the football authorities and relevant stakeholders and are keen to carefully review the evidence on the matter.
"The sports minister also looks forward to discussing at length the nuances and complexities of sports ground safety in Parliament later this month."