World Cup 2018: Do Russia fancy their chances on home turf?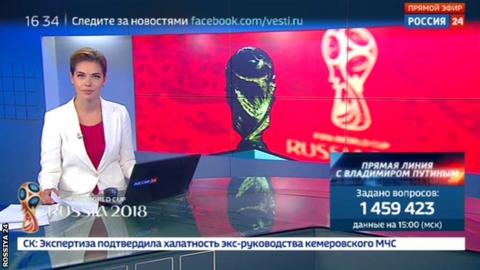 2018 Fifa World Cup on the BBC
Host: Russia Dates: 14 June - 15 July
Live: Coverage across BBC TV, BBC Radio and BBC Sport website with further coverage on Red Button, Connected TVs and mobile app.
With less than a week to go until the first game, Russian media outlets are buzzing with excitement about the first World Cup in their country.
Television news regularly carries glowing reports about host cities, and the planning that has gone into hosting the tournament.
But the enthusiasm does not extend to the national team. They, it is fair to say, will not be burdened by expectation.
The general feeling among sport journalists is the team will be lucky to reach the knockout stages from a group also including Egypt, Saudi Arabia and Uruguay.
'Nightmare'
Ilya Andreyev of the Sport Express website had predicted a "heroic" performance from Russia that would see them through to the last 16.
However, he changed his mind after a 1-0 defeat by Austria and a limp 1-1 draw against Turkey in warm-up friendlies.
"One (one, damn it!) shot on target in two matches against not the most outstanding of opponents… simply a nightmare," he said.
'Worst-ever run'
Only "a miracle" can save Russia from crashing out at the group stage, according to Alexander Sedov, sports writer with Gazeta.ru.
"Seven matches without a win (the worst-ever run in the Russian national team's modern history under the same coach) and zero victories in 2018," he said.
Russia are only the third host nation that has failed to win a game in a World Cup year, Sedov also pointed out.
Presidential pessimism
Even President Putin did not sound confident when discussing the national team's chances.
"I have to state a fact that, unfortunately, our national team has not in recent times achieved big results," he told Chinese TV.
Days later he sounded slightly more positive, saying he hopes the team will score a "big win".
The lowest-ranking team
Sportsdaily.ru noted Russia are the lowest-ranked team in the tournament, according to world governing body Fifa.
"Russia's national team has improved its own anti-record, falling to 70th place. Our national team's previous worst achievement was 66th position," the article said.
"Bravo, bravo!" one social media user tweeted with sarcasm. "We were awarded the right to hold a WC as early as 2010 and in eight years not only have we not created a good team, but we have degenerated!"
Another Twitter user said this was the first "truly awful" Russian national football team. "It is awful not because of the results, but because of its lack of identity."
Coach blamed
There has been strong criticism of the coach Stanislav Cherchesov, not least for what Gazeta.ru described as the "strange inconsistency" in the selection of players and formation.
"Cherchesov has problems with finding a formation," said Sergei Titov on Championat.ru.
A poll by the state-funded VTsIOM pollster suggests only 20% of Russians expect their team to make it to the last 16. That said, 11% believe they can win the World Cup.