Parma: Prosecutors investigate text message match-fixing claim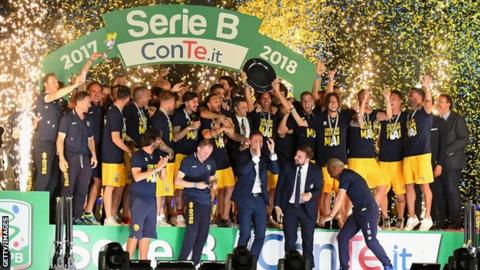 Italian side Parma have denied claims of match-fixing after prosecutors interviewed two players about text messages sent before their promotion-winning match against Spezia.
The club said messages sent by Emanuele Calaio and Fabio Ceravolo to Spezia players did not contain "any sort of irregularity or malice".
The final-day victory on 18 May sealed the club's return to Serie A.
Media claimed the texts appeared to ask their opponents not to try too hard.
A club statement released on Saturday said the players "were spoken to by federal prosecutors" and "were simply asked about two text messages sent to ex-team-mates playing for Spezia".
The statement added: "Parma has seen the messages in the last few hours... they don't contain any sort of irregularity or malice.
"Those who have the task of ensuring the honesty of a league have the right and duty to carry out any investigations necessary. For this reason every director, player and employee of the club will be accessible to the relevant authorities."
Parma were relegated to Serie D after being declared bankrupt in 2015, but will return to Italy's top flight after three back-to-back promotions.
They sealed second place in Serie B after beating Spezia 2-0, while rivals Frosinone could only manage a 2-2 draw against Foggia.