World Cup 2018: Nigeria's Uzoho still on a 'learning curve'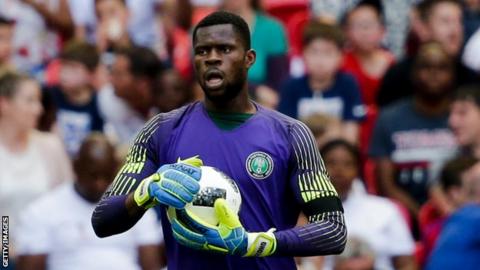 Nigeria goalkeeper Francis Uzoho says he is still learning as he admitted he is surprised at what he has achieved in the last eight months.
The 19-year-old made his Super Eagles debut against Argentina in November and has since been elevated to first choice keeper ahead of the World Cup.
The Deportivo La Coruna player has just two Spanish La Liga matches and six international friendly appearances under his belt.
"I didn't see myself here six months ago so I understand why people would easily praise and criticise," Uzoho told BBC Sport.
"I got here through sheer hard work and self belief, but in football the goalkeepers often face a lot of criticism and we accept that.
"Playing for your country is a big responsibility, for the friendly games it's a learning curve and I've just have to keep at it.
"It's been a big surprise but I take it all in by giving my best. "
Despite his relative inexperience he has established himself as Nigeria's number one ahead of experienced duo Daniel Akpeyi and Ikechukwu Ezenwa.
In October 2017, Uzoho became the youngest foreign goalkeeper to ever play in La Liga and marked a memorable Deportivo La Coruna debut with a clean sheet.
His form in Spain caught the attention of Gernot Rohr and he was named in the 24-man squad to take on Algeria in a World Cup qualifier and then a friendly against Argentina in November.
"It's been like a dream and sometimes I just continue to thank God for everything and the coaches for the opportunity," Uzoho said.
"My biggest hero for Nigeria remains Vincent Enyeama [the country's most capped player with 101 appearances] and I always admire him.
"To think I was watching him at the last World Cup in Brazil, making that incredible save against Bosnia, to now getting a chance to follow in his footsteps is unbelievable.
"I have faced some tough players in La Liga and some friendly games, I believe I still have a lot to do in my career.
"We have a good squad and I am mentally prepared and ready."
Uzoho was part of the victorious Nigeria squad at the 2013 Fifa Under-17 World Cup in the United Arab Emirates, albeit without playing a single minute at the tournament.
He only arrived at the club from Qatar's Aspire Academy in January 2017.