Rachel Corsie: From chartered accountant to Scotland captain with 100 caps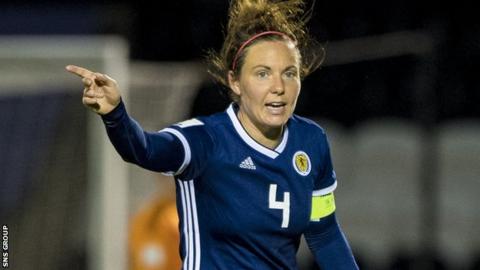 Women's World Cup qualifier: Poland v Scotland
Venue: Kielce City Stadium, Kielce Date: Tuesday, 12 June Kick-off: 14:30 BST
Coverage: Watch on BBC Alba & BBC Sport website; Commentary on Radio Scotland; text commentary on BBC Sport website
As captain Rachel Corsie prepares for her 100th Scotland cap she admits life nearly took her down a very different path.
A qualified chartered accountant, the Aberdonian was working for one of the world's leading firms when an opportunity to represent her country came calling.
"I don't really remember the day I thought I'd make the national team, or even youth level," she told BBC Scotland.
"I think it was just something I always played from a young age because I loved it and one thing led to another.
"I remember phoning my mum and telling her I was going to try and play professional and she thought I was crazy.
"But I'm glad I've done it and you never really know where your journey is going to take you. I like to think opportunities arise when they're supposed to and you make the best decisions along the way and hopefully things work out."
The defender's decisions have worked out pretty well so far. After three seasons with Seattle Reign, Corsie continues to live the American dream as part of the newest team in the National Women's Soccer League, Utah Royals.
And she played a key role in getting Scotland to Euro 2017, a major finals debut for the team.
Now the 28-year-old will reach a century of caps in Kielce, Poland, as the Scots battle for a place at the 2019 World Cup.
"It's a huge achievement, a huge honour," said Corsie, who has scored 16 goals for Scotland.
"The privilege of playing for your national team is always one of the biggest and best of your career.
"There's a number of players who have recently achieved that milestone. At times, people don't realise how big an achievement that is. Anyone who represents their country 100 times is a great athlete who will remember it for the rest of their life and have lots of stories to tell."
Nine years after her first senior call Corsie already has plenty of tales - from the highs of first captaining the national team to their first win over the Auld Enemy in 30 years in 2011, to the lows of missing out on the 2013 Euros when Spain scored with the last kick of the ball.
"I also ruptured my cruciate ligament in the same game so there was a lot of disappointment that day but I think the lows make the highs even bigger," she explained.
A big sister in her own family and former Glasgow City skipper, the step up to lead Shelley Kerr's side has come naturally for Corsie, who joked that she better appreciates the work her predecessor Gemma Fay put in.
"You feel like people are asking questions all the time - what do I need to wear, what do I need to do, what time is this - but it's something I enjoy and it's a position you are given because you've already shown you have the capability to do that so it's important to try not to change too much," she said.
"You're the go-between, you're the voice for the players and helping to reiterate the messages Shelley is trying to get out."
'I love playing in America'
Corsie was hampered by injuries in the past two seasons but is now fully fit and enjoying life at her new club.
"Physically every single game is a huge challenge for me," she said. "Typically, American athletes are fit and fast and you're playing against some of the best players in the world week-in-week-out and that's helped developed my game and really pushed me."
Their inaugural home game at Rio Tinto Stadium against the Chicago Reds was a sell out with 19,302 fans largely decked out in gold for the Royals cheering them on.
"The infrastructure of the women's game there is just huge, it's one of the biggest sports for women in the country so the support behind it is incredible," said Corsie.
"When you see what the national team players there get, the support they have, the funding, you can see why for so long they've been one of the best countries in the world.
"To get a flavour of that, to learn from those players, it gives you a different perspective, a different challenge and that's something I think everyone needs."
While Corsie has earned her Uefa B licence coaching badges, she admits she is not ready to give up life and 'soccer' across the pond.
"I came to a point earlier this year where I wasn't sure what I was going to do and I considered a number of leagues," she said.
"I felt the right opportunity for me was signing for Utah and I'm pleased with that decision.
"But it's hard to say what will come in the future. I love playing in America and there's places there that are home now and people I would call family."