World Cup 2018: Morocco have five Netherlands-born players in their squad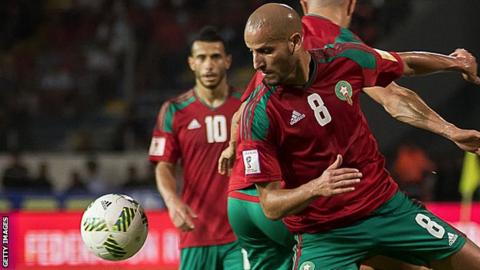 The Netherlands might be missing from the 2018 World Cup after a poor qualifying campaign, but some of their fans are getting ready to enjoy the tournament - thanks to Morocco.
That is because five Netherlands-born players are likely to feature for the North African nation in the Group B game against Iran on Friday.
Morocco's foreign-born contingent include midfielders Moubarak Boussoufa, Karim El Ahmadi, forward Hakim Ziyech, and the Amrabat brothers - forward Nordin and midfielder Sofyan.
Indeed, 17 of Morocco's 23-man squad in Russia were born outside the country but qualify to play because of dual nationality.
Players born in Europe now dominate many major African national teams and are actively sought out to strengthen sides.
So, while the Netherlands - runners-up in 2010 and third at the 2014 tournament - missed out after defeats by France and Bulgaria, there are many Oranje fans who will be backing Herve Renard's Morocco in Russia.
"I hope the Netherlands are solidly behind us - just as I, for all these years, have supported the Dutch national team at the World Cup when Morocco didn't participate," said Feyenoord midfielder El Ahmadi.
"I think that if we find each other, we can all be proud.
"I grew up in the Netherlands, but I must honestly say that when I hear the national anthem of Morocco I feel a connection with the country."
While the Netherlands are missing their first World Cup since 2002, Morocco are making their first appearance for 20 years.