World Cup 2018: Life inside the England bubble - what they can expect in Repino

By Phil McNulty
Chief football writer
Last updated on .From the section World Cup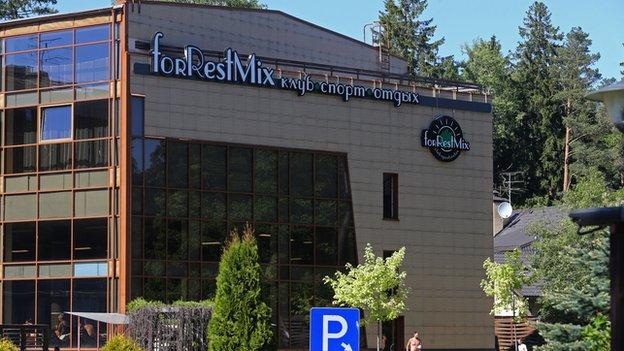 2018 Fifa World Cup on the BBC
Host:
Russia
Dates:
14 June - 15 July
Live:
Coverage across BBC TV, BBC Radio and BBC Sport website with further coverage on Red Button, Connected TVs and mobile app.
From Repino
England arrived at their World Cup base on the Gulf of Finland on Tuesday into an environment that reflects the calm which has characterised their build-up to Russia 2018.
The FoRestMix Hotel, where they will stay during the tournament, has the look of a 1980s resort - the yellow and brown structure hidden behind wooden fences and firmly closed gates as Gareth Southgate's squad seek seclusion in their carefully chosen base.
England will be accommodated in a neighbourhood a short walk from the water's edge in a picturesque part of Russia where many have second holiday homes to escape the greater bustle of nearby St. Petersburg and the capital Moscow.
The place they will call home for however long this World Cup journey lasts is tucked away in a wooded area on little more than a tarmac track flanked at either end by two roads: one that snakes alongside the Gulf coast and the other a busier route into St. Petersburg.
It is a modest base but one the Football Association and Southgate regard as ideal for their needs.
The hotel has more than 100 rooms and a spa but the look and feel is comfortable and relaxed rather than luxurious. It is a base Southgate expects his players to be perfectly happy with.
It is an hour's drive from St. Petersburg airport and has the advantage of offering privacy while also being close to the small town of Repino - named after 19th century Russian painter Ilya Repin - with its population of less than 3,000.
And it is also a far cry from the soulless luxury of the infamous 'Camp Capello' at The Royal Bafokeng Sports Campus in Rustenburg for the World Cup in South Africa in 2010, when England's players were miles from any outside civilisation.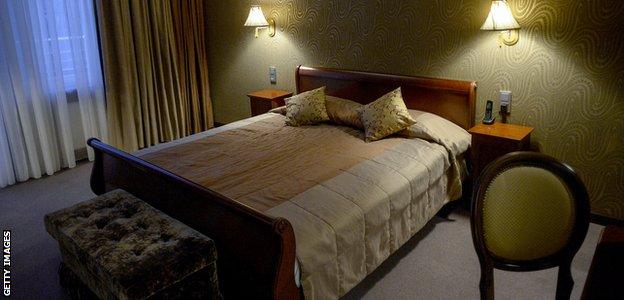 They could have been anywhere in the world when they threw open their windows and it proved to be a disastrous choice, driven by the Italian manager's desire for an austere, hard-line approach.
It was a facility that appeared to drain the life from England's players as many complained about boredom. Southgate has already firmly swept boredom as an excuse for failure here in Russia off the table - although the FA will ensure there is plenty to keep the squad occupied away from the serious World Cup preparations.
The lesson of Rustenburg has long been learned, from Krakow for Euro 2012 to Chantilly four years later. England now make a point of embedding themselves close to the local community.
In the hours before England's arrival, the wooden gates of the hotel were firmly closed and under the watch of Russian police patrolling the road outside - with a military vehicle and personnel located discreetly in the woods nearby, the silence only broken with sounds coming from an exercise class being staged nearby.
The hotel has rooms at £104 per night and has a games room, swimming pool and gym - with the FA no doubt ensuring standards will be at their highest by the time England checked in.
Inside, staff could be seen preparing the apartments and ensuring they are in perfect shape for Southgate and the men who carry England's sporting hopes in Russia.
In among any luxuries provided, one facility appears to be important above all - a provision that, having spoken with foreign journalists here, is a "must have" for every country.
Speedy internet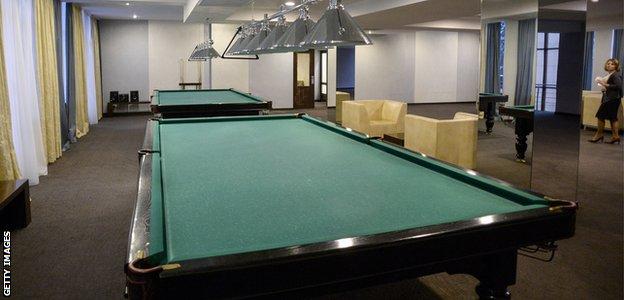 Former England physio Gary Lewin, who worked at five World Cups, told BBC Sport: "The internet has become key to any World Cup environment."
It enables players to fill in any downtime.
Lewin says players can become obsessive about internet access, revealing the FA had to fly two people out to one tournament to try to increase the internet speed - and how the squad complained on news conference days because all bandwidth was being consumed by a voracious media.
This will have been factored into the FA's preparations.
England's training base at the Stadium Spartak Zelenogorsk - a 15-minute drive from their hotel - is also tucked away, reached by a winding road that ascends past holiday homes - Russian communist revolutionary Vladimir Lenin once had a summer house in the area - before reaching the perfectly-manicured pitches that are always a feature of the FA's plans and which are left behind for the locals to utilise.
A high fence has been erected around the stadium to try to ensure privacy for England, whose arrival here has been greeted more with curiosity than celebration.
There is a goodwill towards them, though, with one Russian visitor taking a look at the training facility and telling BBC Sport: "The arrival of the England team is good because it brought a very big reconstruction of this stadium - for many years it was very bad.
"It was used as a sports school, for football and for skiing. It is very important that after the World Cup it will be a sports school again and will be used by children so we can say 'thank you' that the England team will be here."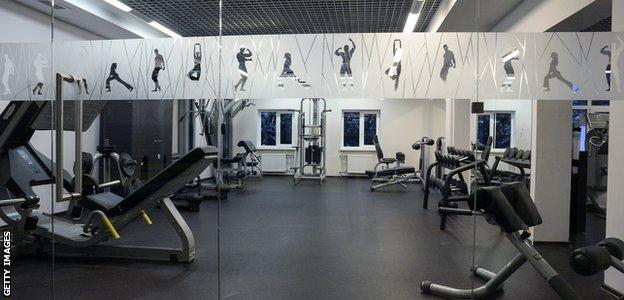 England's last World Cup base was in Rio at the lavishly appointed Urca military training base, with Sugar Loaf Mountain providing an idyllic backdrop and glorious views out on to the water.
It all counted for nothing as they failed to reach the knockout stage.
This may be more low-key and less easy on the eye but the Brazil fiasco showed there is more to a World Cup campaign than a glamorous, photo-friendly centrepiece and the FA has taken all factors into consideration ahead of their coach - emblazoned with the slogan 'Send Us Victorious' - pulling through the gates of The FoRestMix Hotel on Tuesday evening.
The atmosphere and climate is more Scandinavian than Russian, the image underscored by the nights when the sun may not set until 11pm, with only four hours of darkness before the light emerges again.
Thick curtains will be an essential part of England's travelling kit.
England decamped to Repino with the temperature hovering around the 16 degrees mark, the weather decidedly cool and changeable in the days before their arrival with a mixture of sunshine and showers.
It is bracing rather than tropical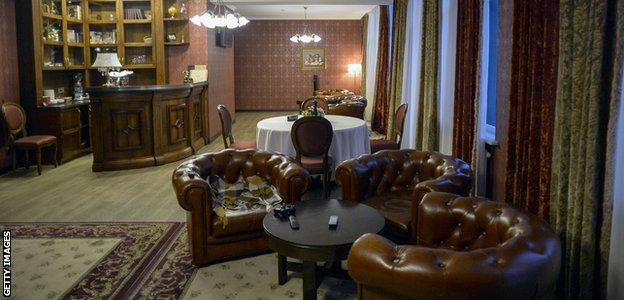 The climate may bring extra significance when England fly 1,000 miles south to Volgograd for their World Cup opener against Tunisia on Monday, where the temperatures are expected to be in the 30s.
Southgate was aware of that challenging change in conditions when he decided on Repino as England's World Cup base. Sochi, to the south, was considered but dismissed as too hot and both the FA and Southgate are confident the players will be prepared enough to cope with Volgograd's searing heat.
As with the team hotel, the Zelenogorsk training base was heavily secured and barred to unauthorised visitors ahead of England's first training session on Wednesday, with the pitches still being heavily watered to ensure they are in peak condition for Southgate's squad.
And travelling around Repino to training at Zelenogorsk, the next town along the coastal road, can be kept to a minimum with that base, the team hotel and the usual FA media centre located at another nearby hotel all within easy driving distance.
The media centre, where player and manager interviews will be conducted for the duration of England's World Cup stay, has been decorated with some extra flourishes such as a 10-pin bowling alley, a snooker table, air hockey and table football - all added photo opportunities once interview duties are completed.
The finishing touches were being applied to hotel, training base and media centre in the hours before Southgate's England touched down in Russia.
Now Southgate and the FA will hope everything has been provided to ensure World Cup lift-off when the action starts against Tunisia in Volgograd.