Football Association and government to launch stadium ownership review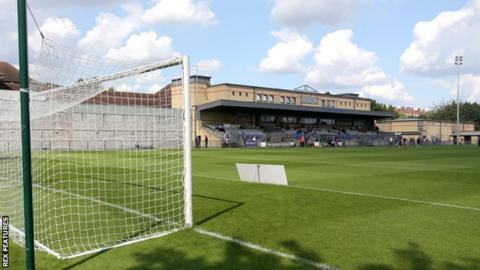 The Football Association and the government will start a review into the ownership of football stadiums to help protect the interests of English clubs.
The review will look across the pyramid - with a focus on non-league clubs.
It will establish the different types of stadium ownership, and highlight where there is a clear separation between clubs and owners.
The FA will report back to MPs next year on what steps and guidance should be provided to clubs.
The review has been prompted by several disputes between clubs and stadium owners over land and development issues.
Dulwich Hamlet, who were promoted to National League South last season, are a case in point, having been forced out of their south London ground in March by the property developers who own it.
Martin Glenn, the chief executive of the FA, welcomed the support offered by Prime Minister Theresa May's government.
"In the event of disagreements between landowners and clubs, the FA has no ability to intervene to support clubs, so having government backing is vital," he said.
"The FA looks forward to providing its recommendations."
Sports Minister Tracey Crouch said the review would help clubs protect themselves and give supporters greater clarity.
"Football clubs are hugely important to communities across the country but there are some fans that fear for the very future of their local team," she added.
"Dulwich Hamlet is not the only club caught in the middle of a development dispute and this review will look at the issue of stadium ownership in more detail and how clubs can be best supported."