Jess Fishlock: Wales Women's win over Russia their best performance ever
Last updated on .From the section Football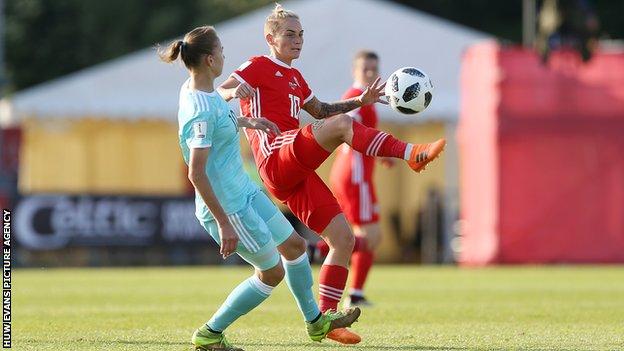 Wales midfielder Jess Fishlock says Wales Women's 3-0 win over Russia was the best performance she's ever been involved in for her country.
Two goals from Kayleigh Green and one from Tash Harding gave Wales a comprehensive win on Tuesday evening.
The win moves Wales top of their World Cup qualification group with one game left, against England on 31 August.
"I think it's going to take a couple days to sink it," said Wales' most-capped player Fishlock, 31.
"It was by far the best performances I've ever been involved in when it comes to Wales, everyone was brilliant.
"Each game has a different purpose and tactic, against England we had to put on a performance which got us a point which was exceptional.
"Against Russia we had to put on a performance to make sure our dream is still alive and we did that."
Victory over Russia means Jayne Ludlow's side are now assured of a second place finish in the table in what will be Wales' best World Cup qualifying campaign ever.
A win against England at home in Wales' final qualifying match will guarantee them a place in next year's World Cup in France.
Should Wales miss out on automatic qualification, they could still qualify for the play-offs if they are one of the four best runners-up from the seven qualifying groups.
"It's going to be a huge game when they come down here," added Fishlock.
"I hope our tiny little amazing country get behind us and is as loud as they were against Russia.
"I don't think they will come without worries... good luck to them if they don't treat us with respect.
"It will be a huge game but it could go either way, I don't think it's a sure thing for England anymore."
'We are starting a movement'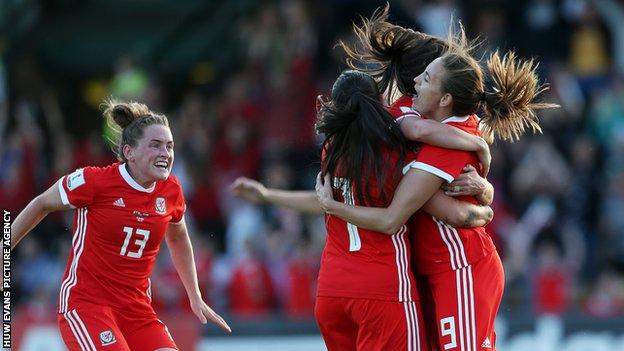 Irrespective of whether or not they reach next year's World Cup, Fishlock believes the current group of players are part of a big change for women's football in Wales.
"I've played for Wales when there have been no photographers, now there are now a gazillion everywhere we go now," said Fishlock.
"That's a credit to the girls, they've made that. Every single person who came to this game will talk about it for the next few weeks."
More than a thousand fans have attended each of Wales' home qualification matches and depending on the venue, the existing highest attendance of 3,581 could likely be broken against England.
The venue for their final qualification game has yet to be announced, with FAW chief executive Jonathan Ford saying they will 'pounce' the stadium on Phil Neville's England.
Fishlock, who won her 111th cap against Russia, said she trusts the FAW to make the right choice to give them the best chance of winning.
"The girls are why this is happening, we are starting a movement of some kind and it's great to be a part of it," Fishlock added.