Paris St-Germain need to sell 60m euros worth of players to meet FFP rules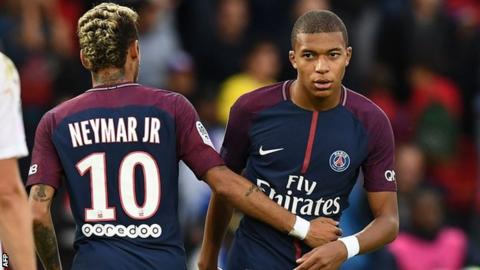 Paris St-Germain need to sell 60m euros (£52.9m) worth of players by the end of June, to comply with financial fair play (FFP) rules.
They were cleared of breaching FFP rules, but the French club's transfer dealings from last summer onwards will remain "under close scrutiny".
Uefa opened an investigation into PSG's spending in September.
It came after PSG broke the world record transfer fee in August 2017 when they signed Neymar for £200m.
They also signed Kylian Mbappe on loan, and could pay £165.7m for him this summer.
"The financial impact of transfer activities as from the 2017 summer - up to and including the upcoming transfer window - and compliance with the break-even requirement for the 2018 financial year will remain under close scrutiny and will be thoroughly looked at in the coming weeks," Uefa said in statement.
European football's governing body introduced FFP 'break-even' rules in 2013, requiring clubs to balance their spending with their revenue.
Turkish champions Galatasaray have been fined six million euros (£5.3m) and need to reach full break-even compliance by 2021-2022. They could be fined a further nine million euros if they fail to meet the requirements of the agreement.
In closing the PSG investigation, Uefa said the "break-even result of the club remains within acceptable deviation" for the past three financial years.
But it is understood that in order to balance the books for the current financial year, which ends on 30 June, they need to raise money from player sales.
The seven-time French champions have been owned by the Gulf state of Qatar, via its Qatar Sports Investments fund, since 2011.
Marseille were fined 100,000 euros for a "minor breach" of the break-even policy, while Israeli club Maccabi Tel Aviv were found to be non-compliant and will enter "settlement agreements" to help them meet FFP rules.