Ballymena United to play matches away from home until mid-September
Last updated on .From the section Irish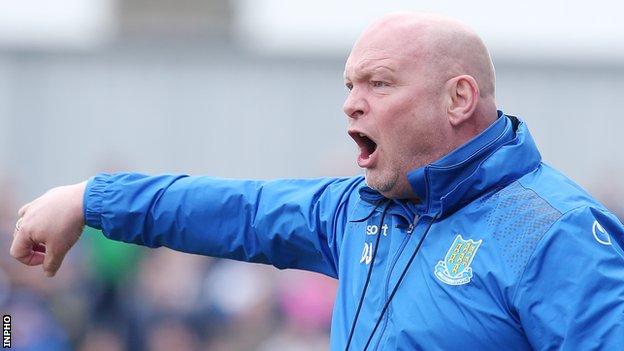 Ballymena United will have to play their fixtures away from home until mid-September after their pitch was re-laid ahead of the new season.
The condition of the Showgrounds pitch has been problematic in recent years.
"Barring unforeseen circumstances the date we have been given when the pitch should be available is 15 September," said United vice-chairman Don Stirling.
"The weather has been kind recently so the work is going ahead on schedule or even slightly ahead of schedule."
The size of the pitch at the Warden Street venue is being extended as part of the work, meaning that United could play games in European competition at home in the future were they to qualify.
"The weather is still a factor and the more time the grass is given to bed in the better so if it turned out that we were away on 15 September and that gave us an extra week it could be all the better," explained the long-serving United official.
"The fixtures will be released home and away as normal and my understanding is that we will then have to rely on the goodwill of other clubs to switch fixtures."
The Premiership fixtures for the 2018-19 season will be released on Friday 29 June, with the first matches of the new campaign to take place on Saturday 4 August.
Meanwhile the main Showgrounds pitch will be unavailable for the finals night of Super Cup NI on Friday 27 July, so it is expected that those matches will be played on one of the other pitches, with temporary stands erected to accommodate supporters.