World Cup 2018: Cristiano Ronaldo & Lionel Messi 'probably' playing at their last World Cup says Jose Mourinho
Last updated on .From the section World Cup74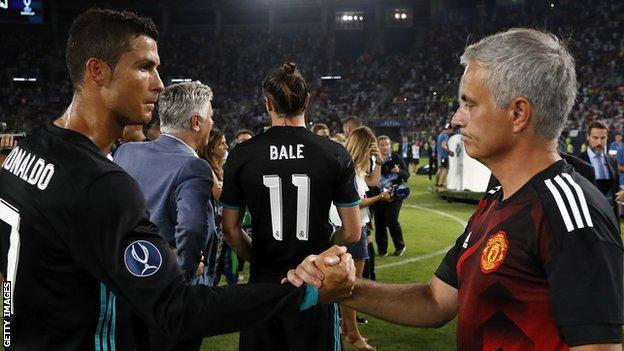 Lionel Messi and Cristiano Ronaldo "probably have one last chance" to win the World Cup, according to Manchester United manager Jose Mourinho.
Portugal captain Ronaldo, 33, and Argentina skipper Messi, 30, have multiple honours for their clubs but neither have lifted the World Cup.
"They both arrive at this World Cup probably as the last one," Mourinho said on Thursday.
"It would be the pinnacle of their careers."
Real Madrid forward Ronaldo and Barcelona forward Messi have nine Champions League final wins between them and a further 11 La Liga titles.
Ronaldo helped Portugal win Euro 2016 but Messi has yet to enjoy a major success with Argentina at senior level.
Both players are appearing at their fourth World Cup finals.
Speaking to Russian broadcaster RT, Mourinho added: "Everybody knows for the last decade Ronaldo and Messi are the two best players on the planet.
"They have tried to give the best of themselves to their countries."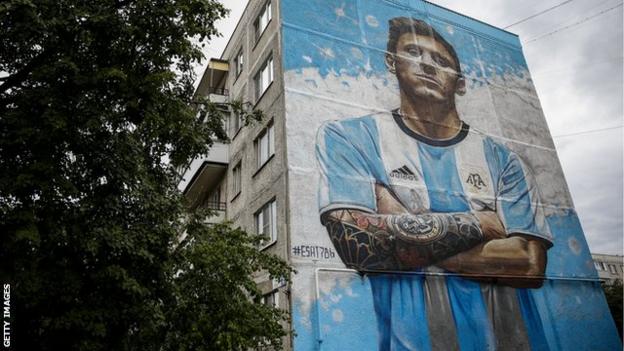 Asked if this was their last chance to win the World Cup, the Portuguese said: "Cristiano is a superman. He can [play at another World Cup] if he wants.
"But four more years at the highest level? To come back to the next World Cup I feel it will be hard.
"Of course Lionel is younger and he can perfectly be in the next World Cup in four years time.
"But I would also think that to play every week - two or three matches per week for Barcelona and Real Madrid in La Liga, Champions League, national team - I think to resist to all of that and four years later to come to the highest level is hard.
"They're both going to try to finish their careers with the only thing they don't have."
'Lopetegui sacking won't hurt Spain'
Ronaldo is in action on Friday when Portugal play Spain in the eagerly-awaited Group B pairing in Sochi (19:00 BST).
Their opening opponents Spain sacked coach Julen Lopetegui on the eve of the tournament, after he was unveiled as the new Real Madrid manager, and named Fernando Hierro as his temporary replacement.
"It's a strange situation," said former Real Madrid boss Mourinho.
"I don't know if Spain sacked the manager or if the manager sacked himself with the way everything happened between himself and Real Madrid.
"I feel sorry for the manager because he was with the [Spain] team for the last two years and of course he deserves to be with the team.
"But I also understand the position of the federation. They have just given him a new contract for the future.
"If it is true what I read that the president of the federation was informed a couple of minutes before the club [Real Madrid] made it official then it is a strange process."
"Spain are a team of such quality, such maturity and such an understanding that I don't think what has happened is going to make a huge difference.
"It's not a huge problem for them because the players are so good that they pick themselves."
Asked who he thought would win Friday's match, Mourinho said: "As a fan, I wouldn't be in hell if Portugal lose to Spain but I would not be in heaven if we beat Spain.
"I think we are both going to qualify [for the knockout round] because we are two of the strongest teams in the competition."