Africa wants a return to the rotation of World Cup hosts
By Piers Edwards
BBC Sport, Russia
Last updated on .From the section African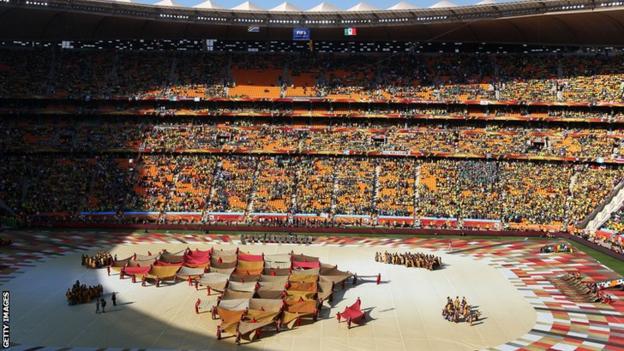 African delegates are keen for Fifa to reintroduce a rotation system for World Cup hosting after Morocco failed to land the 2026 World Cup.
The North Africans lost out to the triple bid from Canada, Mexico and United States on Wednesday.
"Rotation would be a solution," said Malawi FA president Walter Nyamilandu.
"We should ask for an amendment to the bidding process that would allow rotation to come back," added Liberia FA president Musa Bility.
Morocco lost Wednesday's vote at the Fifa Congress in Russia by 134 to 65.
By the time the 2026 finals take place, Africa will have hosted just one of 23 World Cups - while Mexico alone will have staged three separate tournaments.
The 2010 finals in South Africa only came about after football's world governing body specifically introduced a rotation system in 2001.
This was pushed through by former Fifa president Sepp Blatter in response to South Africa's narrow defeat to stage the 2006 World Cup, which eventually took place in Germany.
Bility believes Fifa could be tempted by the reintroduction of the system, which was abandoned in 2007 after Africa had been awarded the 2010 finals.
"I think this would be acceptable to Fifa because the World Cup is about taking football to the people," the Confederation of African Football Executive Committee member told BBC Sport.
"There is inequality in the status of countries around the world so you need laws that will allow the tournament to rotate. You saw the margin of the vote - there was no way Morocco was going to win."
Liberia was one of several African countries which did not vote for the Moroccan bid.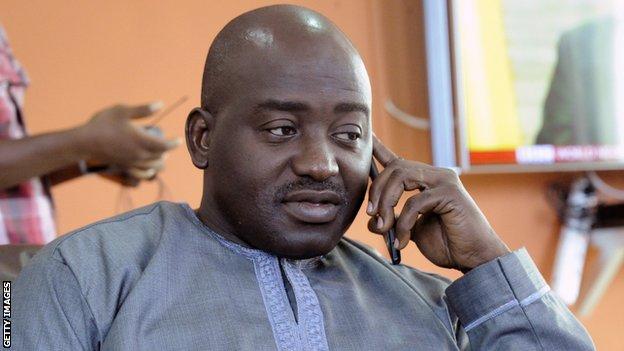 Morocco's comprehensive defeat has left several African delegates wondering when, if ever, the continent will stage football's greatest event again.
A total of 41 African nations backed the Moroccan bid, meaning the North Africans picked up just 24 votes from a possible 147 outside the continent.
"My biggest concern is that Africa won't be given a chance soon," added Nyamilandu.
"It might take a lot of years and a lot of convincing for the rest of the world to come and vote for Africa again. We had an opportunity and (the final vote) was clear testimony that Africa will not get support from the rest of the world.
"It's going to take a long time for Africa to host the World Cup."
Many African delegates believe Morocco lost because its projected tournament profit of $5 billion fell considerably short of the $11bn being pledged by the North American bid.
"It was a game changer," said Barry Rukoro, secretary-general of a Namibian FA that backed the 'United' bid.
"Football needs resources to develop across the globe and everywhere around the world, people are looking for much more resources than are available. So it really assisted the United bid."
Even though many African federations will theoretically benefit from additional development funds that the extra $6bn of revenue for Fifa will bring, it still leaves a nagging doubt for some.
"I ask myself - what is the future of the World Cup? - because if we are going to go with the numbers only, what does it mean?," said Kenya FA president Nick Mwenda.
"The numbers were staggering and it's true that we all need the money, but when is Kenya going to stage the World Cup if that's the route we go down?"
"If it is possible to achieve the $11 billion, is that going to be the benchmark?" queried Seychelles FA president Elvis Chetty.
"And if so, will that stop other nations from ever hosting and maybe Africa from ever hosting?"
Morocco has now bid five times for the World Cup without success.
Nonetheless, the African nation was still able to pledge a profit of $5 billion - double the amount that Fifa made from Brazil 2014 - from an expanded 48-team World Cup.
"The dynamics have changed with the 48-nation tournament so maybe from an African perspective we need to start thinking how best we can accommodate 48 teams," said Zambia FA president Andrew Kamanga.
"If you take Africa a whole, we have enough capacity from South Africa to Morocco in the north, so it's question of ensuring you put together one composite bid that can address all the challenges."