Junior Hoilett: Cardiff City future unclear
Last updated on .From the section Cardiff
Cardiff City manager Neil Warnock says there is a "slight problem," in the negotiations to keep winger Junior Hoilett at the Cardiff City Stadium.
Hoilett, whose contract expires at the end of June, scored 11 goals in 50 games for the Bluebirds as they were promoted to the Premier League.
Cardiff are also negotiating with Iceland midfielder Aron Gunnarsson whose deal also expires in June.
Warnock explained that it is unclear whether either player will stay.
"Junior we've made a very good offer, but it has not been finalised yet," he said.
"There is a slight problem there and we will have to see if it turns into anything major or if he still wants to be on board.
"I think this is the best place for him, but you do have to have your principles as well, so let's see if we can sort it out in the next few weeks."
Negotiations with Gunnarsson are ongoing, with talks continuing even while the player trains with Iceland ahead of their World Cup opener.
"We are speaking to Gunnarsson's agent, he is trying to get fit for the World Cup at the moment," Warnock confirmed.
Warnock says it is likely some players will depart the Welsh capital as he still intends to make further signings.
"Nearer the season we will make decisions on some players going," he told BBC Sport Wales.
"With two or three players we have said we will discuss their futures in pre-season.
"I am willing to let them go, if they want to go, as they might need to be playing more.
"Hopefully we've got a strong enough squad that some won't be able to get a look-in and they will want to play [elsewhere]. But we will see how we go."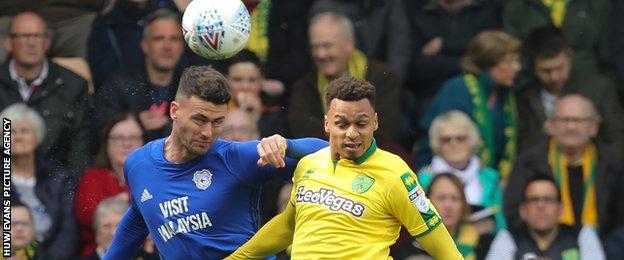 Signing satisfaction
Warnock expressed delight at the two signings he has made so far this summer, with Preston defender Greg Cunningham and Norwich winger Josh Murphy joining for fees around £4m and £11m respectively.
"I am going to get the signings I want, the club are supporting me and, God willing, I think we can give everyone a good game," Warnock said.
"Josh [Murphy] is a player I've always liked, such an exciting player and I feel he has matured in the last 12 months.
"I have been watching him since he was 18 or 19 and he is so exciting when he gets the ball, I feel like he could be our Raheem Sterling-type player when he gets the ball.
"I've said to him at Norwich after the game 'if we go up are you going to come with me?' and he said 'yeah, I would love to.'
"That's come to fruition now and he knows I've been after him for a while and he's one of those players who I think will improve and take the Premier League on board.
"Greg [Cunningham] is as good as any left back in the Premier League, he plays for the Republic of Ireland.
"I've been after him for many years, I made a good offer for him last summer, but Preston did not want to sell.
"It is only because he's in the last year of his contract they have agreed to sell."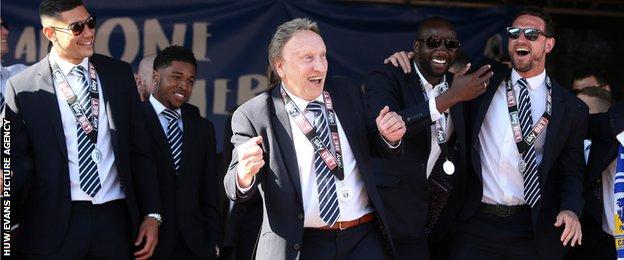 Excitement builds with more players to come
Warnock says he expects to make further deals as the Bluebirds prepare for life in the Premier League.
At the age of 69 and having achieved an eighth promotion, Warnock says he is determined to enjoy the experience of life in the top flight.
"Our fans know it's got to be a bonus year really. But I think with the players we are bringing in, to go together with the ones we have already got, I think we can give most teams a good game," he said.
"We are going to be underdogs in every game, so I think we have got to use that to our advantage, especially at home with our fans.
"We are up against it financially, our budget will be probably just over half of what Huddersfield have got, to give you some idea, but I don't think that should stop us."
Warnock now wants the club to continue strengthening their squad.
"With a couple of loan signings and a couple more permanent signings I think we will be in good shape," he said.
"We are looking for another striker, another wide player, definitely a midfielder and probably a defender, but the defender is not the priority, it will depend on the budget.
"There are a few games at the World Cup where we will be looking at players, but I don't think we need to change too much, we don't want to change drastically.
"We won't bring four or five players in from abroad. We need to sign the right players and I think we are.
"Whatever my budget is, I am going to smile and enjoy it. We are up against it, but we were up against it last season as well. We will spend money, but not stupid money."