Tokyo 2020: Team GB playing at Olympics 'fundamental' - Phil Neville
Last updated on .From the section Women's Football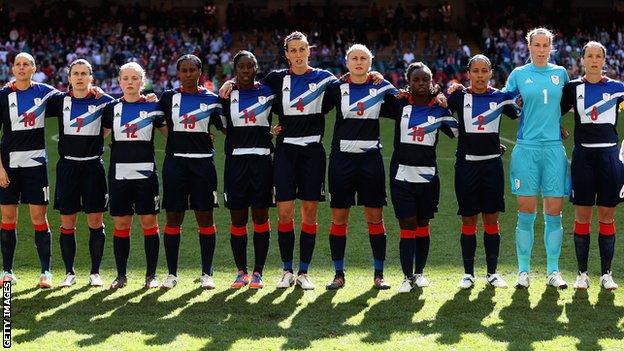 Fielding a Team GB women's football team at the Tokyo 2020 Olympics is "absolutely fundamental" for the growth of the women's game, says England head coach Phil Neville.
But Neville dismissed speculation he will be appointed as manager if a team was to be sent to Japan as "premature".
Team GB reached the quarter-finals at London 2012 but did not enter a team for the Rio 2016 Olympics.
"It would be great if I could be a part of it," said Neville.
"Talks of going to the Olympics as a manager are a long way from my thoughts because we've got to actually qualify for a World Cup first."
A team wasn't entered for the Rio Games because the four home nation football associations could not reach an agreement.
There were concerns that a united British team could risk a country's independence within Fifa - world football's governing body - with the home nations agreeing to co-operate for London 2012 on the basis it was a one-off.
The Football Assocation has previously said it was "confident" there would be a women's side at Tokyo 2020, but the Scottish, Welsh and Irish FAs are understood to be against the idea - though would not stand in their players' way if they wished to be considered for selection.
"I think it would be a great opportunity for the Great Britain players to play at the top, top level at what is probably the pinnacle," said Neville.
"I'm sure there'll be representation from all nations - and it has to be that way. It's not an England team, it's a Great Britain team and there has to be representation."