World Cup 2018: Costa Rica keeper Keylor Navas arrives in Russia via the Cannes Film Festival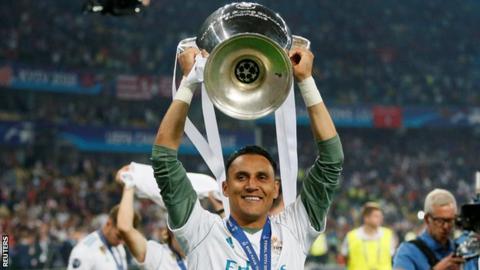 Have you heard about the goalkeeper who warmed up for the World Cup by attending the Cannes film festival?
Or the forward who will be playing in Russia sporting a tattoo showing off his country's flag?
What about the defender who has overcome a backlash from fans to sell clothing plastered with positive slogans?
BBC Sport looks at three players hoping to make an impression for countries from the North, Central America and Caribbean (Concacaf) section of qualifying - Costa Rica, Mexico and Panama.
Keylor Navas (Costa Rica)
You don't need look no further than Keylor Navas to find the star of the Costa Rica team.
With three Champions League winners' medals and one La Liga title in four years with Real Madrid, Navas is the standout name on Los Ticos' team sheet.
But did you know the 31-year-old is a devout Christian, who attended the 2018 Cannes Film Festival to promote his biopic?
Hombre de Fe - Man of Faith - highlights how important religion was in his journey from a child in Costa Rica to goalkeeper at Real.
Having arguably been the star goalkeeper at the 2014 World Cup, Navas is vital to Costa Rica's hopes of progress in Russia.
Four years ago he conceded just two goals in five games, saving 21 of the 23 shots he faced.
In qualifying for Russia, Navas conceded seven goals in 11 games.
Costa Rica start their Group E campaign against Serbia in Samara on Sunday (13:00 BST) before facing Brazil in St Petersburg on 22 June (13:00) and Switzerland in Nizhny Novgorod on 27 June (19:00).
Blas Perez (Panama)
Arriving in Russia for their first ever World Cup are Panama.
Upon qualification, the country's president, Juan Carlos Varela, declared a public holiday so that everyone could celebrate the team's achievement together.
Even before kicking a ball in Russia, reaching the tournament is a career-highlight for many of their players - including forward Blas Perez.
Should the 37-year-old manage to score, he will celebrate with a horns-up gesture in tribute of his father, who was nicknamed 'The Bull'.
Perez's body is covered in tattoos, many of which pay homage to Panama.
"People sometimes tell me I am crazy," says Perez, who has recently been playing his club football in Guatemala. "They say, 'how can you get a tattoo of your country's flag?'
"I like it. I really feel a lot of love for Panama."
Miguel Layun (Mexico)
Mexico defender Miguel Layun has played club football in Italy, England, Portugal and Spain - as well as his home country.
Since his last World Cup appearance in 2014, Layun has played in the Premier League for Watford, turned out for Porto and ended 2017-18 on loan at Sevilla.
Yet it has been a tough journey to the top for the 29-year-old - the first Mexican to play in Italy's Serie A after joining Atalanta in 2009.
Layun had "It's all Layun's fault" embroidered on his football boots as a reminder of the criticism he received on social media after he joined Mexican club America in 2010.
He finally managed to win over fans at the Mexico City-based club in 2013 when he scored the winning penalty to earn America a first league title for eight years.
But Layun believes that tough stint at America made him stronger.
He has since turned a negative into a positive, selling clothing with slogans like "believe in yourself" and "train insane or remain the same".
Mexico's first game in Russia is against world champions Germany in Moscow on Sunday (16:00 BST). They then head for Rostov-on-Don to play South Korea (16:00) on 23 June before facing Sweden in Yekaterinburg on 27 June (15:00).