Steve Watson: Gateshead manager signs new contract on despite reduced budget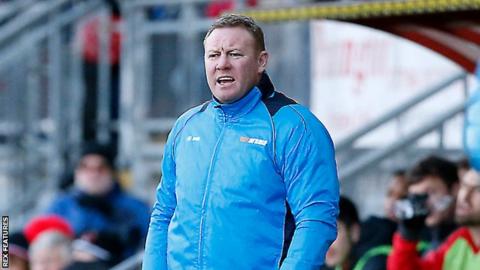 Gateshead manager Steve Watson has signed a new one-year contract.
The 45-year-old former Newcastle and Everton defender will have to work with a reduced budget and a part-time squad after a potential takeover failed.
Owner Richard and Julie Bennett had wanted to sell the club, but the planned new buyers failed to meet certain National League criteria.
Watson took over the Heed in October 2017 and his assistant Micky Cummins and coach Ben Clark are also staying.
But Watson told the club website that his plans for the new season had been affected by the club's change in finances:
"A lot of the work I've done so far over the summer has been catered toward a budget where we'd be able to have a really good go at it and challenge, but obviously things have changed quite a lot.
"I'm ready to take the challenge on a much smaller scale, but it's a different type of challenge with different types of players and different circumstances.
"We need to have a siege mentality as we'll probably be working under the smallest budget in the league, but there are teams that have done well under such circumstances and I hope we can be the same."
The club currently have no players contracted ahead of the forthcoming season, which will be their 10th successive campaign at National League level.