Marcelo Bielsa: Leeds United's new boss a complete 'one off'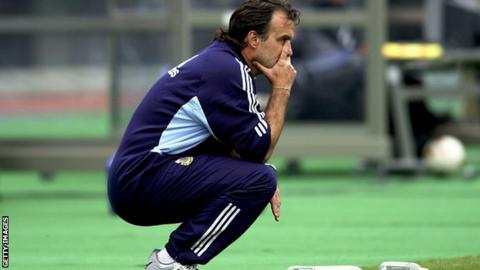 I well recall my first face-to-face experience with new Leeds United coach Marcelo Bielsa.
It was the 1999 Copa America and he was in charge of Argentina. His team had just been beaten 3-0 by Colombia, his centre forward Martin Palermo had missed three penalties and Bielsa had been sent off.
In the press conference he sat staring into space, refusing to make eye contact with anyone - his usual stance. He was asked what he had made of the referee's performance.
If the question was predictable, the answer was anything but.
"One doesn't usually have the habit of commenting on referees, but…" he said, leaving everyone to believe he would continue with a rant about a joker running amok with a whistle. Instead he proceeded with, "but in respect of my expulsion, the referee was absolutely correct because I protested in an ill mannered form."
It was a wonderful welcome to the gloriously eccentric world of Marcelo Bielsa, a complete one off who has spent his career dancing to his own drum.
From a family of illustrious lawyers in the city of Rosario, Bielsa instead followed his love for football and, when he realised he would not be a world class centre back, he switched his ambitions to coaching.
So revered is Bielsa at his local club, Newell's Old Boys, that the stadium is named after him. He is also revered in Chile. He was no longer in charge when the Chilean national team finally got their hands on some silverware, winning the Copa America in 2015 and 2016. But he had built the team, enthused the players with his spirit and then resigned and handed them over to his successors.
When he took the Argentina job, at the end of his first training session Bielsa handed the players a pencil and a little slip of paper. He wanted them to write down whether they wanted to line up with a back three or a four. He went through all the replies.
"Back four, back four, back four... This clearly shows your preference for a line of four. But I'm telling you that from now on we're going to be playing with a back three. See you tomorrow," he said as he turned and walked off. And he won them over, bringing them round to his way of thinking.
Very few of his former players ever speak badly about him. If they show him they are prepared to run, then he showers them with support - and he usually lets the players elect their own captain on the grounds that he should be a representative of the dressing room rather than the coaching staff.
This is typical Bielsa. His esteem and importance, which has earned him admiration and glowing praise from Pep Guardiola and Mauricio Pochettino, comes far more from the influence he has exerted than for the trophies he has won.
That influence comes from the determination to do things his way.
Bielsa is the high priest of the high press. One of his principal concepts is that in a team that wants to attack - and his teams always want to attack - the conventional full-back is a waste of a player.
He wants his width higher up the field. He wants both full-backs pushing up, linking with the wingers to create two-against-one situations down the flanks and squeezing the opposition back, smothering them in their own half.
It is a style of play that comes with risks - there is plenty of space behind the defensive line in which the opposition can launch their counter attacks. And it is a style that demands constant movement, relentless physical effort.
When it works it is exhilarating, the team launching wave after wave of attacks, leaving the opponent reeling on the ropes.
One of his most impressive sides was the Argentina team who qualified in fine style for the 2002 World Cup. Come the competition, though, they bombed out in the group phase. At the end of the European season the players were simply not fresh enough to carry out the gameplan.
This has to be a concern with Leeds. In his spells with Athletic Bilbao and Marseille it was noticeable that the team fell away towards the end of the campaign, drained by the tiring requirements of doing things the Bielsa way.
Had the season lasted six months, then the teams might have won some silverware. Nine months was asking too much. Over the gruelling course of a campaign in the Championship, this may be a problem.
It is also possible that the appointment has come too late. Bielsa is now approaching 63, and his last job - a spell in charge of Lille - was not a success.
What Bielsa proposed once came across as revolutionary. It may be the case that football has now largely incorporated his concepts of intense pressing, and that Bielsa no longer has novelty value.
But he will surely be energised by the atmosphere in English stadiums. While he was in charge of Argentina he had no place for the foot-on-the-ball elegance of playmaker Juan Roman Riquelme.
He went along to a testimonial match as the stadium of Boca Juniors, where Riquelme was an idol. Bielsa was jeered by a packed crowd - and he loved it. "It is the essence of football," he said of the fans' response.
He will now experience another type of essence in the Championship, and will doubtless be fascinated by the way that English crowds live and breathe football.
His appointment is excellent news for Leeds.
Providing he is given what he wants and terms of the contract are respected, Bielsa will launch himself into the project with a maniacal frenzy, barely sleeping as he ploughs through videos of future opponents.
Leeds players and fans now have a dream to be part of, and the Championship can boast the presence of one the most fascinating coaches in the global game.