World Cup 2018: How VAR could have changed World Cup history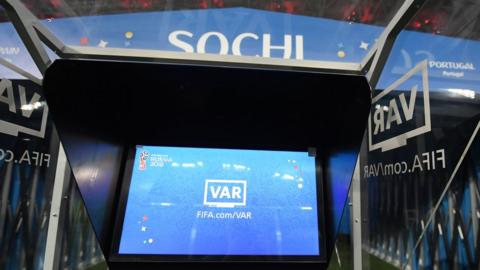 Diego Costa's first goal in Spain's 3-3 draw with Portugal in their opening Group B match in Sochi was historic for more reasons than it being the striker's maiden World Cup goal.
It was the first time in the history of the tournament that a goal was validated by the video assistant referee (VAR), created to review decisions made by the head referee of a football match. Italian referee Gianluca Rocchi used the resource to check if Costa had fouled Pepe in the build-up to the goal and judged nothing was wrong.
In the very next match - which ended France 2-1 Australia - the first two goals were penalties both decided with VAR; France's winner was given after goalline technology found it had crossed the line, to boot.
But what if VAR was present in other World Cup editions? Could it have changed history?
Argentina v England, Mexico 1986
Yes, the infamous "hand of god" goal. For those who never heard of it, Argentina edged a well-balanced quarter-final against England when Diego Maradona used his left hand to beat Peter Shilton in the air.
He later scored one of the most beautiful World Cup goals ever after dribbling past almost the whole opposition to put Argentina 2-0 ahead, before Gary Lineker hit back for England in the 80th minute.
But let's remember that for 51 minutes Argentina had not managed to breach England's defence.
With VAR to check, the referee would have seen that it definitely was not Maradona's head that had enabled him to out-jump a man nearly 20cm taller than him.
Brazil v Netherlands, USA 1994
One of the most thrilling World Cup encounters ever.
After falling 2-0 down thanks to goals by Bebeto and Romario, the Dutch fought back and equalised with Dennis Bergkamp and Aaron Winter, only to be undone by a Branco free-kick in the 81st minute.
VAR would have shown that the free kick should never have been given, as Branco had blatantly fouled Marc Overmars in the build up to the decider of the USA 94 quarter-final.
At the time of the goal, the Dutch look fresher and likely would have been more incisive at extra-time.
Spain v Italy, USA 1994
Same World Cup, different controversy.
Trailing Italy 2-1 in a hotly-contested match in Boston, Spain threw everything at the Azzurri. In the dying minutes, Spain's Luis Enrique was prevented from reaching a cross by Italy's Mauro Tassoti's elbow.
Sure not only a penalty, but a red card?
Unfortunately for the Spaniards, Hungarian referee Sandor Puhl and his assistants didn't see the incident.
They also chose to ignore Enrique's pleas - despite all the blood coming from his face.
Tassotti, however, was retrospectively punished and suspended for eight matches, missing out on the final against Brazil. Little consolation for Spain though, who were already out by then.
South Korea v Spain, Japan-South Korea 2002
Where do we start?
Spain had two perfectly legitimate goals disallowed by Egyptian referee Gamal Ghandour, and on several occasions Spanish players were called offside when they seemed to be in lawful positions.
It ended 0-0 after 120 minutes and Spain were out on penalties.
The Koreans had progressed to the quarter-finals on the back of a controversial win over Italy in which a second yellow card for Francesco Totti for diving looked harsh.
Still, the host nation continued on to the semi-finals - only to agonisingly lose to Germany 1-0.
Brazil v Croatia, Brazil 2014
Hosting the World Cup for the second time, Brazil were having a nightmare of an opening match in Sao Paulo.
They fell behind after 10 minutes through a Marcelo own goal and, although Neymar equalised, they were still being outplayed by Croatia, who looked by far the most likely winners.
That was until Brazilian forward Fred tumbled in the Croatian box on the 70th minute after the lightest of tussles with Dejan Lovren.
Japanese referee Yuichi Nishimiura gave a penalty that Neymar duly dispatched to put Brazil 2-1 up. With VAR, it would likely have not been given.
Oscar then scored a 91st minute goal to finish breaking Croatian's hearts and save the hosts' blushes - until the semi-final anyway.