Radhi Jaidi: England can't be complacent against Tunisia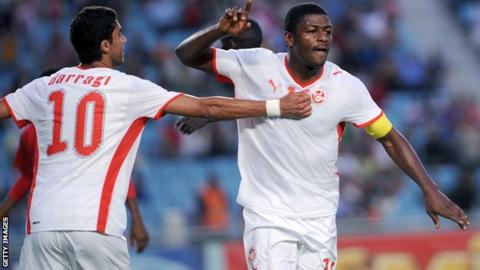 England should be wary of complacency against Tunisia, the African side's former captain has warned.
Radhi Jaidi said the Three Lions' Group G opponents are in "high spirits" ahead of Monday's game in Volgograd.
The ex-Premier League defender believes England's "new mentality" makes them dangerous opponents.
But he said: "Probably all that can go against the younger boys is an excess of confidence because they're playing against Tunisia."
Tunisia are 21st in the Fifa rankings, the highest of any African team, with Gareth Southgate's side nine places above them in 12th.
England could only draw 0-0 with Tunisia's North African neighbours Algeria in the group stages of the 2010 World Cup in South Africa.
However Jaidi, who played for Birmingham City and Bolton Wanderers, believes the current England team could buck the trend of under-achieving in major tournaments.
"Before the kick off people will think England is the same story; penalty problems and they'll get to the second round if they're lucky and that's it," said the 42-year-old.
"But there's something new in this team. They're young and ambitious and want to prove themselves to the world. They have a new mentality.
"Despite their age they have experience playing in some of the best leagues in the world and they have proven themselves every week."
Nabil Maaloul's Tunisia drew in their World Cup warm-up fixtures against Turkey and Portugal before losing their final game 1-0 to Spain.
The Tunisians sat deep to frustrate the Spaniards for much of the match, but looked threatening on the counter and should have gone ahead when Naim Sliti volleyed over from inside the six-yard box.
Asked whether Tunisia would take a similar approach against England Jaidi said: "I think you need to be realistic from a technical and tactical point of view.
"Against Spain most of the teams in the world would struggle and they would probably concede the play for most of the game. That was what happened to Tunisia and could to any other team.
"I was in the Tunisia camp the other day and I had a chat with the manager and the spirit is really high and the confidence is there."
Tunisia have the longest active World Cup winless streak of any side competing in Russia, with no wins in 11 game, but they qualified undefeated.
Jaidi believes they can prosper if they are more clinical in Russia.
"What we probably need is a bit of concentration in both boxes," he said. "In the final third when we manage to play our football we need to concentrate more and get those chances.
"In the Spain game we had at least three clear chances before we conceded the goal.
"The concentration level in the first two games had to be as high as possible."
Jaidi will be in the Volgograd arena for the game and says he will not rule out a win for Tunisia, even if he suspects it is Southgate's men who will start their group stage phase with three points.
"Hopefully Tunisia can do it," he said. "I say hopefully because in my country we say "inshallah" which means God's wish.
"My heart is telling me Tunisia but my brain is telling me England. I will watch the game same as all the fans, sit in the middle, and will be happy for both."