Standing could be introduced in top two leagues by 2020-21 - EFL chief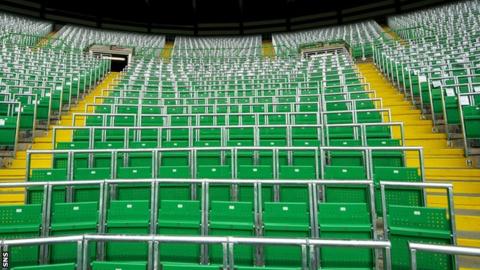 Standing could be reintroduced in the top two leagues of English football by the 2020-21 season, says EFL chief executive Shaun Harvey.
There will be a Parliamentary debate on the issue on 25 June and the EFL has released a video to promote its stance that clubs should be allowed to decide whether to introduce standing or not.
The debate was triggered by more than 110,000 people signing a petition and Harvey expects a vote to take place within 12 months on whether the existing legislation should be changed.
He said: "It is realistic to think we could have standing in the top two leagues by the 2020-21 season."
Standing in the top two divisions has been outlawed since 1994 in line with the 1989 Football Spectators Act.
The legislation was introduced following recommendations made in the Taylor Report into the 1989 Hillsborough disaster, which claimed the lives of 96 Liverpool fans.
West Brom, who were relegated from the Premier League last season, had a proposal to introduce safe standing at The Hawthorns rejected by the government in April.
But in May, League One side Shrewsbury Town became the first English Football League club to install rail seats at their ground.
Harvey says there are "single numbers" of clubs who would declare immediately they wished to introduce standing at their grounds should the law be changed, but that most had not considered it.
He added that there would be a cost implication but the variables were so great it was impossible to say what that would be.
The EFL also wants to put a cap of 7,500 on the capacity of any terraced area, although clubs could have more than one area should local safety officials allow it.
Harvey said: "We don't want the debate to be lost around a return to 20,000 capacity terraces and this figure would allow disorder issues to be resolved."
In a recent survey run by the EFL, 94% of the 33,000 respondents said fans should be allowed to choose whether they wanted to stand or sit at games.
Harvey said: "This is not a safety issue as 22 stadiums in the EFL already have standing. And it is not about promoting rail seating over terracing as that is a choice which has to be made at local level.
"It is about standing shoulder to shoulder with government to deliver what the fans want.
"I will be disappointed if by this time next year there has not been significant movement on this issue."