National League System: FA chiefs restructure non-league game
Last updated on .From the section Conference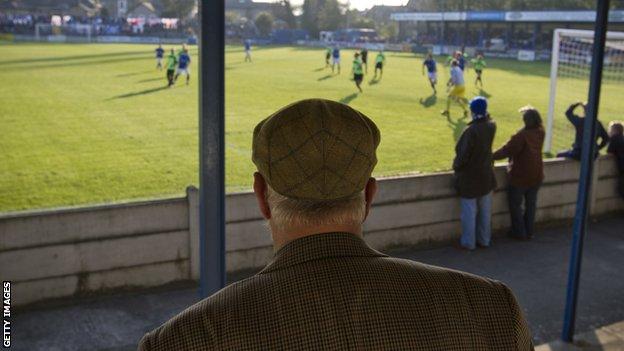 Football chiefs have agreed to restructure England's non-league game.
Additional divisions are being created while changes to the number of teams in some divisions will also be made.
It means play-offs will be cancelled in some some leagues for the next few seasons, while up to 10 runners-up of some divisions will not be promoted next year.
The Football Association's Leagues Committee (FALC) said the changes would "create consistency".
It added the standardisation of leagues would lead to a "perfect" football pyramid - which it hopes to create for 2020-21 - while the need for midweek travel would be reduced.
The National League System, directly below the EFL's League Two, stretches from the National League ("Step One") to county leagues at "Step Seven".
The planned "perfect pyramid" would involve a 1-2-4-8-16 structure at Steps One to Five.
At the end of last season, the National League System contained 57 leagues containing 84 divisions across the country.
Immediate changes for 2018-19 involve new divisions at Steps Three and Four, and two new divisions at Step Six.
Some details of the new structure have yet to be confirmed - for example, the number of divisions at Step Six from 2020-21.
The FALC said some leagues where play-offs would be suspended were "disappointed but will accept the decision".
"The FALC acknowledges that this is not ideal, but the solution is a temporary one in order to work towards the long term goal," it added.
How Steps Three & Four will change for 2018-19

2017-18

2018-19

Step One

(National Lge)

24 clubs

24 clubs

Step Two

(National Lge North/South)

2 divisions (22 clubs)

2 divisions (22 clubs)

Step Three

(Isthmian/Northern/Southern Leagues)

3 divisions (24)

4 divisions (22)

Step Four

(Isthmian/Northern/Southern Leagues)

6 divisions (4 x 22, 2 x 24)

7 divisions (20)
Why is change needed?
As is stood, leagues and divisions lacked consistency in terms of how many clubs were promoted. For example, some Step Six leagues promoted three teams, other promoted two, and not all ran a play-off system.
That in turn meant clubs in some geographical locations had a lower chance of being promoted to the next level of the pyramid than rival teams in other areas, where more promotion places were up for grabs.
"There are further enhancements to come over the coming years which will further improve the experience for players, clubs and supporters and these are anticipated to be in place upon the conclusion of the 2019-20 season," an FA spokesperson said.