Rangers job persuaded Gary McAllister to return to football under Steven Gerrard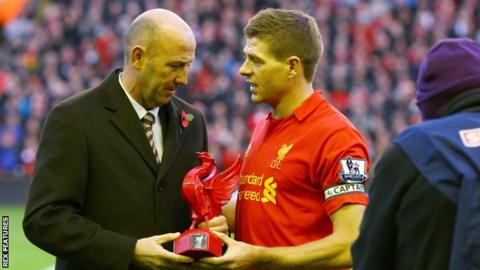 Former Scotland midfielder Gary McAllister says the draw of being assistant to Steven Gerrard at Rangers persuaded him to return to football.
McAllister managed Coventry City and Leeds United after retiring.
His last management role was as first team coach at Liverpool under now Celtic boss Brendan Rodgers in 2015.
"The lure of the club, the profile of the club, it is one of the few jobs in all honesty I would come back into," the 53-year-old told Rangers TV.
McAllister never played for Rangers, having spent the rest of his career in England after leaving Motherwell.
But the former Leicester City, Leeds, Coventry and Liverpool midfielder admitted that it had been a possibility.
"There were a few occasions away back when I started as a boy at Motherwell, Jock Wallace was there," he said.
"And then there was a period when I was captain of Leeds United and Scotland where I think Walter might have been interested.
"I've never actually pinned him down to ask him, but there was interest.
"It was nearly close a couple of times."
McAllister had most recently been a club ambassador at Anfield, where Gerrard spent most of his own career as player and then youth coach, as well being a television football pundit.
The Scot was relieved to get down to work after he and the former England midfielder headed to Malaga with the Rangers squad for their pre-season training camp.
"It seems like an eternity since the job was first offered and Steven came on the phone and was asking me to come along with him to be assistant," he admitted.
"But now that we're here, I know the club. Well, I think I know the club. I'm sure I'll be surprised when we step out for the first game."