Lord Sugar criticised for tweet comparing Senegal team to 'beach sellers in Marbella'
Last updated on .From the section World Cup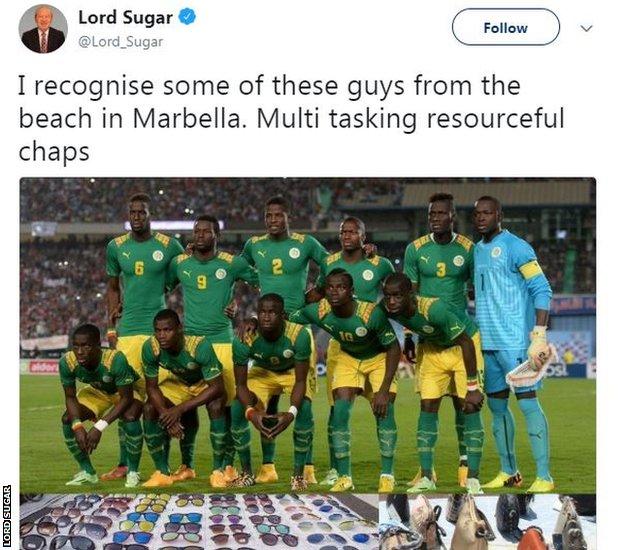 Lord Sugar has been criticised for an "unhelpful and ignorant" tweet comparing Senegal's World Cup team to sellers on the "beach in Marbella".
A picture of the team was posted next to pictures of sunglasses and handbags.
Lord Sugar, 71, later deleted the post and apologised, saying "my attempt at humour has backfired".
The British billionaire, who appears on the BBC's The Apprentice, said he "misjudged" the tweet and it was not "intended to cause offence".
The tweet prompted hundreds of critical responses, including from Twitter users accusing him of racism.
"I misjudged [my] earlier tweet," he posted later. "It was in no way intended to cause offence, and clearly my attempt at humour has backfired. I have deleted the tweet and am very sorry."
Earlier the former Tottenham chairman had said his "funny tweet" had been "interpreted in the wrong way as offensive by a few people".
He added: "Frankly I can't see that, I think it's funny. But I will pull it down if you insist."
"This lazy, stereotypical and bigoted kind of attitude belongs to a bygone era," educational charity Show Racism the Red Card told BBC Sport.
"The World Cup is a celebration of different cultures and brings people together from across the globe.
"Lord Sugar's unhelpful and ignorant comments go very much against the spirit of this unique occasion and are probably best kept to himself."
Piara Powar, executive director of anti-racism group Fare (Football Against Racism in Europe), said Lord Sugar's "stereotyping of a whole race" was "disgraceful and damaging".
"Alan Sugar has deliberately and with racist intent sought to demean a World Cup football team," Powar said.
The BBC said in a statement: "Lord Sugar has acknowledged this was a seriously misjudged tweet, and he's in no doubt about our view on this. It's right he's apologised unreservedly."
Senegal's team include a number of Premier League players, including Liverpool's Sadio Mane and Everton's Idrissa Gueye.
They beat Poland 2-1 in their World Cup opener on Tuesday.
Anti-racism body Kick It Out declined to comment when contacted by BBC Sport, but chair Lord Ouseley was critical of the tweet in a Metro column.