Eden Hazard says Romelu Lukaku was 'hiding' during Belgium win over Panama
Last updated on .From the section World Cup
Belgium captain Eden Hazard says he had to berate team-mate Romelu Lukaku for "hiding" before the striker's goals helped his side beat Panama.
The Chelsea forward took Lukaku aside at half-time to coax him into having a greater influence on the game.
Dries Mertens put Belgium ahead just after the break before a Lukaku double sealed a 3-0 win in Sochi.
"It's not easy playing with a man missing," said Hazard. "At half-time, I told him we needed him."
He added: "He'd been hiding out a bit up front. But once he got in there, involved in the game, like magic, he scored two.
"I hope he understands that now."
Manager Roberto Martinez gave his players Wednesday off following their exertions on the humid Black Sea coast before they face Tunisia on Saturday (13:00 BST) and England next Thursday (19:00 BST) in Group G.
The former Everton manager said he was comfortable with his team "sharing views" after TV cameras also showed defender Jan Vertonghen shouting at Yannick Carrasco before the winger was withdrawn.
"Any sort of negative word between the players is not a type of attitude that we have," Martinez said. "Of course, we want to demand from each other, and that's natural, what happens in a dressing room."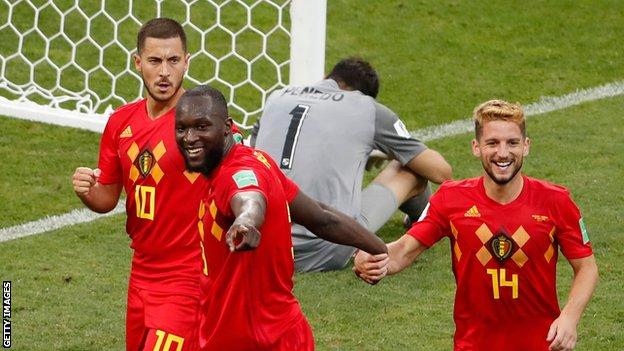 In a self-written article before Belgium's opening game, Manchester United striker Lukaku described his poverty-stricken childhood and desire to beome "the best footballer in Belgian history".
Martinez added that he had faith in Lukaku delivering on his ambitious talk.
"The drive is what interests me in a young player, why does he play football?" he said. "And Romelu Lukaku plays football to be the best in his position.
"He can be as good as he wants to be."
Vertonghen, the side's most capped player, also denied talk of a rift, calling the current side the best Belgian team he has known.
"We're a complete team," the Tottenham defender said. "There's always going to be stress, but I think we coped well."