Troy Archibald-Henville: Exeter City could offer new deal to released central defender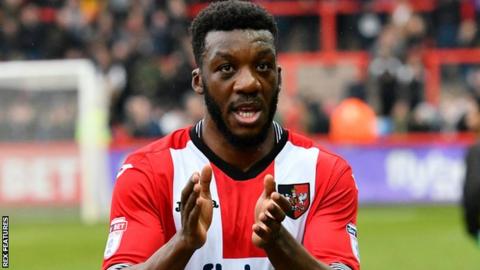 Exeter City manager Matt Taylor could offer a new deal to released defender Troy Archibald-Henville.
The 29-year-old and fellow centre-back Dan Seaborne were released last month.
But with captain Jordan Moore-Taylor rejecting an offer to be the club's best-paid player to sign for MK Dons, the City boss now has a bigger budget.
"I'm in a position to bring in possibly two or three centre-halves and Troy Archibald-Henville could potentially be one," Taylor told BBC Sport.
With Jordan Storey leaving for Preston North End in a deal believed to be worth £750,000 and Moore-Taylor linking up with former boss Paul Tisdale in Milton Keynes, City are left with only two recognised centre-backs in Luke Croll and Troy Brown.
"I released seven players when I first came in, but that was due to the budget generally being tied up on the contract offer on Jordan, which hasn't materialised, so that's freed up some budget and we might see one or two of those faces coming back to the club," added Taylor.
'My hands were tied'
Taylor says he had no option but to let skipper Moore-Taylor leave the club on a free transfer after six years involvement with the first team and many more coming through his home-town club's youth ranks.
"My hands were tied with that one," Taylor said. "He had a 30-day window from the last game of the season if we didn't get promoted when he was a free agent and he decided to move on elsewhere - and he's been offered a fantastic package at MK Dons.
"Jordan Storey was a really good deal for the player and the club. We got good value out of Jordan. He played the last dozen league games last year and performed really well, but as soon as a player gets interest from higher up it's difficult to keep hold of them.
"He's gone on to get a four-year deal at a Championship club and we hope that he progresses there as we have a good sell-on in that deal as well."
First coaching appointments
Taylor is still to appoint an assistant manager, but has brought in former Yeovil Town, Bristol City, Leicester City and Shrewsbury goalkeeper Chris Weale as goalkeeping coach.
He has also promoted Dan Green to Under 23s manager and appointed the club's first strength and conditioning coach in Andrew Wiseman.
"I knew Chris from previous experience with him on a coaching course and playing against him. I knew his character and reputation, I just had to find out if he was as good a coach as his reputation stated," said Taylor.
"I followed it up with keepers he's worked with in the past and they have great character references."
Taylor hopes to have his assistant manager in place either by Friday or soon after the weekend.
"Everyone I speak to in terms of staff are generally working, so there are certain things we have to be respectful of in terms of other clubs and other jobs that people are doing, but it's close to getting done," he added.