Aberdeen: Derek McInnes targets recruits before Burnley Europa League tie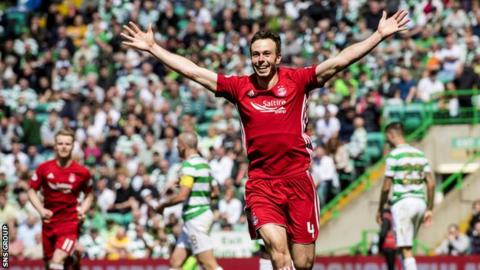 Aberdeen manager Derek McInnes hopes to make "another couple of signings" before their Europa League second qualifying round tie with Burnley.
The first leg takes place at Pittodrie on Thursday 26 July, with the return game at Turf Moor seven days later.
The Dons have signed Lewis Ferguson, Chris Forrester and Stephen Gleeson.
"It's not a tie that we're scared of. We'll look forward to it, we'll relish it, the supporters will relish it," said McInnes, 46.
"It's not the draw we would've wanted but now that we have been drawn there's certainly a lot to look forward to.
"We will try and bring another couple of signings at least in before the Burnley game, hopefully.
"I feel now that we've got an opportunity to win a very tough tie. We know there'll be a lot of focus on it, a lot of comment on it from experts but ultimately it's about the game and two tough 90 minutes for us that we'll try and overcome and get through."
Ferguson, 18, Forrester, 25, and Gleeson, 29, all operate in midfield.
"It's an area of the team we've concentrated on where we felt it needed addressing," explained McInnes.
"They've all got their own qualities to show and they'll show that in an Aberdeen shirt, I'm pretty confident.
"I'm delighted with that level of signing and we'll concentrate on other areas as we have done over the last few months now to try and bring the best players we can within the budget to help us with the challenges ahead."
'Can't help but be excited'
Scottish Premiership runners-up Aberdeen have featured in the qualifying rounds of the Europa League for the past four seasons but have been unable to reach the group stage.
Sean Dyche's Burnley finished seventh in the Premier League last season.
"It's a bit of everything, really," said McInnes about the all-British tie. "You can't help but be excited by the prospect of the game.
"It's the type of fixture you would expect if we managed to get through to the group stages, such is the opposition.
"Burnley have been a team that have done fantastically well in recent seasons. For them to finish just outside that big six in England is a fantastic effort from them.
"They'll be excited by the European adventure so I'm sure they'll see us as a step to where they want to go. We've got our own aspirations and it's a tough game, as tough as it could've been at this stage.
"They've waited over 50 years to get back into Europe, Burnley. I'm sure, now that they are back in, they'll feel an obligation and an excitement about doing as well as they can."
Hibernian and Rangers enter a round before Aberdeen, against Faroe Islands outfit NSI Runavik and Macedonian side Shkupi respectively, while Celtic face a Champions League first round qualifier against Alashkert. of Armenia.
"We're always taking responsibility for Aberdeen Football Club," said McInnes. "We always feel as though we're flying the flag for ourselves first and foremost, but there's no doubting that we want all the teams to do well in Europe and we're well aware of those responsibilities.
"How other people view it at the time and how other people view Scottish football isn't really any concern to me.
"The Europa League's a competition that I think a lot of the teams in England see they can do well in and I'm sure Burnley will see it that way. I wouldn't imagine they would be taking us lightly.
"We're going to be huge underdogs for it, naturally. That doesn't bother me. Any of those teams would've been difficult but Burnley were the stand-out team and obviously I think the most difficult one."