World Cup: England fans and eight-year-old best mates 'loving their third World Cup together'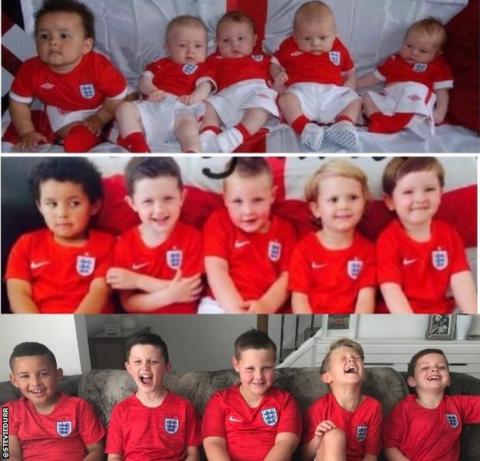 The search is over. We have found the cutest photo of the 2018 World Cup.
Meet Kobe, Max, Niall, Jacob and Kyle. Five cheeky eight-year-old boys, sport mad, best mates and all massive England fans.
"All the boys' mums have been mates for 20 years!" Jacob's dad Steve told BBC Sport.
"Our families all lived on the same estate in Widnes, Cheshire but it wasn't planned like this!
"They all went out for lunch one day and one of them announced she was expecting. Immediately they all started laughing because they all were pregnant and hadn't told each other!"
A few months after they were born, during the 2010 World Cup, the parents decided it was about time they had a group photo, and the tradition was born.
"We hope they will carry on doing the photo for years to come" said Steve.
But will we see them in official England team photos in the future? Quite possibly...
Kobe, a few months older than the others, is now rugby mad but the rest of the boys play football together every week.
The boys will be watching Sunday's match against Panama on a big screen in the garden and Jacob told us they are loving their third World Cup.
"We've been mates since 2010 and our friendship is so strong!" he said before asking if Gary Lineker would give them a shout out on Match of the Day.
How could you say no to these cheeky faces Gary?!