World Cup 2018: Colombia dedicate win to Carlos Sanchez after death threats against midfielder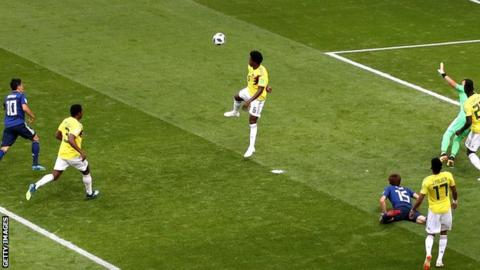 Colombia coach Jose Pekerman dedicated Sunday's 3-0 win over Poland to Carlos Sanchez, who received death threats after being sent off three minutes into their World Cup defeat against Japan.
Police are investigating the threats, which were made on social media.
"He's had a hard time. We want to share this win with him," said Pekerman. "The whole squad feels the same."
Colombian defender Andres Escobar was murdered 10 days after scoring an own goal against USA in the 1994 World Cup.
"We received certain information, but I can't confirm anything," Pekerman added.
"The player was deeply affected, and I think we all understand football really is something else.
"These things shouldn't even be said lightly. Whether it's confirmed or not, this is something that is extremely painful.
Sanchez spent two years in the Premier League with Aston Villa before joining Fiorentina in 2016.
He finished last season on loan with Espanyol and did not play against Poland because he was suspended following his red card.