World Cup 2018: England boss Gareth Southgate warns of 'dangerous territory'
Last updated on .From the section World Cup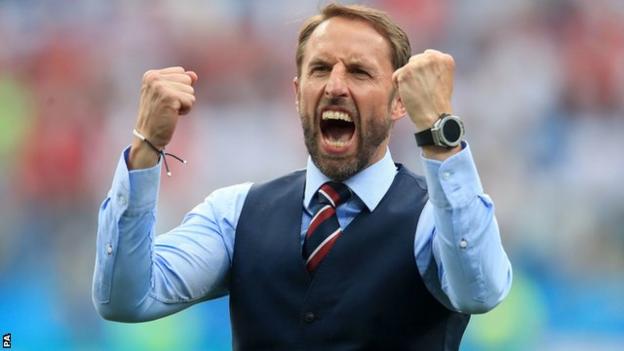 England v Belgium
Venue:
Kaliningrad Stadium, Kaliningrad
Date
: Thursday, 28 June
Kick-off:
19:00 BST
Coverage
: Live on BBC Radio 5 live, live text commentary online, mobile, BBC Sport app and Connected TV; highlights online at full time
Gareth Southgate says it would be "dangerous territory" for England to plot a favourable World Cup path before Thursday's game against Belgium.
With both teams qualified, the game will decide who finishes top of Group G and who they will face in the last 16.
However, if England and Belgium draw, fair play will decide the group as both teams have identical records.
The winner may have a tougher route to the semi-finals, such as a potential quarter-final with Germany or Brazil.
But Southgate insists his side will go all out to win their final group game - rather than attempting to second-guess their potential route to the final stages.
"For our country, that would be a very difficult mindset to have," he said.
"We want to win every game we go into. I don't know how we would go into a game not wanting to win and not wanting to play well.
"So, I think that's dangerous territory, if we start trying to plot and predict where we might end up."
England suffered a shock defeat against Iceland in the last 16 of Euro 2016, and Southgate says his side must avoid making the same mistake.
"We had a really favourable draw, we all thought, in the last tournament and it didn't work out that way," he added.
"I think we just have to keep playing as well as we can, keep preparing the team the right way, keep the momentum and I have to keep the squad involved.
"That's the one thing I think is really important."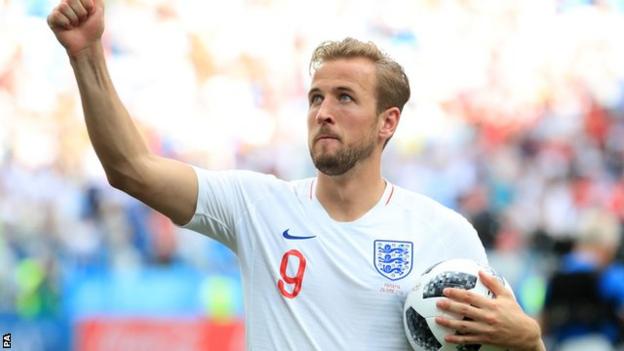 Southgate could rest players for the final group game after England secured their passage to the last 16 with a last-minute 2-1 win against Tunisia and an emphatic 6-1 thumping of Panama on Sunday.
Captain Harry Kane currently leads the tournament goalscoring charts with five after his hat-trick on Sunday took him one ahead of Belgium striker Romelu Lukaku and Portugal captain Cristiano Ronaldo.
Manchester United forward Lukaku is expected to sit out Thursday's game with a slight ankle injury after Belgium manager Roberto Martinez revealed he could make up to 10 changes.
But Southgate has not hinted at any potential changes he may make.
"We have to consider everything," said Southgate. "I've got to think through all of those things, competition for places, players who need match minutes and keeping the unity of the squad.
"Obviously it will be very important for Harry, so I always have to balance what's right for the squad as well.
"He's sitting really proudly at the top. He's gone ahead of some major, major names in English football history in terms of World Cup goals.
"That should make him incredibly proud, but he also knows the team is the most important thing and we have to make decisions that are right for the team."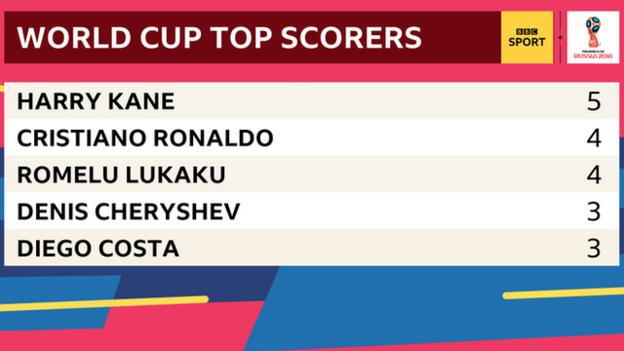 England defender John Stones, who scored two goals in the victory over Panama, has backed Kane to finish as top scorer but insists England's main priority is to win against Belgium.
"Harry would want us to win more than him get the Golden Boot, that's the most important thing," said Stones.
"On a personal level I'd love for him to get it. There's just that great bond between everyone, where you want each other to do well. I've been in teams before where there's not always been that respect and maybe a bit of selfishness.
"But I think this would be a great achievement for him and we'd all be right behind him."
The 24-year-old also thinks it is important England maintain their momentum heading into the knockout stages and insists they will be doing all they can to win on Thursday.
"We've got to keep a winning run going. We want to win," he said. "It's always an added bonus to take it into the next game.
"We want to be winners at the end of the day, that's why we're in the competition."
Southgate says England "can be competitive" against top teams like Belgium and believes his side are "gaining belief" despite the prospect of a quarter-final against Brazil or Germany if they make it through the last 16.
"Over the last couple of years we've played all the top teams," he said. "We haven't been able to beat any of these teams yet.
"We know the level the likes of France and Brazil and Spain are capable of hitting. We all know the quality of the Belgium squad and the individuals they have. But we think we can be competitive in all those games - let's see.
"We are improving and I think the lads are gaining belief in what we are doing and confidence from their performances. I've said all along I don't want to limit what they feel is possible and that's still how I feel."