VAR: Cristiano Ronaldo, Portugal & Spain get to grips with system
Last updated on .From the section World Cup383
World Cup 2018 on the BBC
Host:
Russia
Dates:
14 June - 15 July
Live:
Coverage across BBC TV, BBC Radio and BBC Sport website with further coverage on Red Button, Connected TVs and mobile app.
VAR had its most controversial night at the World Cup on Monday. And as Portugal boss Fernando Santos said - "it all got a little weird".
On four occasions across two games of football the referee stared at a pitchside camera to decide whether he made the right decision or not. The results were mixed.
It all climaxed with two referees, 2,000km apart from each other, making simultaneous decisions in the 92nd minute of two breathless games.
In the end, Portugal drew 1-1 with Iran and Spain were held 2-2 by Morocco. Spain went through to the last 16 as Group B winners and Portugal joined them as runners-up.
What happened?
Three of the decisions were made in Saransk, where Portugal just about held off Iran to make it through to the knockout stage:
Portugal penalty

- with Portugal leading 1-0, Cristiano Ronaldo was barged in the box by Saeid Ezatolahi. Play continued, but on-field referee Enrique Caceres reversed his decision at the next break in play. Ronaldo's spot-kick was saved.

Ronaldo reprieved

- midway through the second half, Ronaldo, chasing the ball, tried to get around Morteze Pouraliganji. In doing so, he swung a right arm at the defender, who was struck in the mouth. Caceres reviewed the footage and decided that Ronaldo's indiscretion only merited a yellow card.

Portugal denied

- in injury time, Iran, chasing the game, lofted a ball into the Portugal box. Sardar Azmoun jumped and headed the ball into Cedric's arm. Iran appealed for a spot-kick and, after watching a replay, Caceres concurred.
Meanwhile, in Kaliningrad:
Spain spared

- As Iran were being awarded a penalty, Spain, trailing 2-1, thought they had equalised against Morocco through Iago Aspas' flicked finish. The offside flag was raised immediately. When the footage of the incident was replayed, referee Ravshan Irmatov decided Aspas was onside, and Spain went top of the group.
And those were only the decisions that were reviewed.
Spain defender Gerard Pique was lucky to escape punishment for a two-footed challenge, when replays may have led to him receiving a red card.
Not only that, but Iran thought they could have had a penalty much earlier in their match against Portugal, when Sardar Azmoun was knocked over in the area.
'In the rules it doesn't say if it is Messi or Ronaldo' - what they said
Even though Portugal were questionably punished by VAR, manager Santos still believes the system "did its job".
"I wasn't concerned by the three decisions," he said. "It seemed like a normal thing in the match. The referee did what he had to do. That's what we have to accept."
However, Iran manager Carlos Queiroz said that "VAR is not going well", despite his side benefiting from the late spot-kick.
Queiroz was critical of the decision not to dismiss Ronaldo, saying: "You stop the game to VAR. There is an elbow. An elbow is a red card in the rules. In the rules, it doesn't say if it is [Barcelona and Argentina forward Lionel] Messi or Ronaldo.
"The decisions must be clear for everybody. Everybody agrees that VAR is not going well. There are a lot of complaints.
"We asked Fifa for a clarification and they refused. We just want to know who is refereeing the game, who is taking decisions in the game. We have the right to know."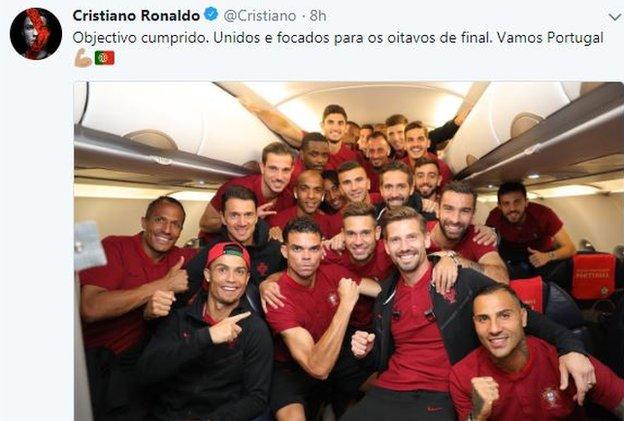 Morocco could not have qualified for the last 16 after losing 1-0 to Iran and Portugal before playing Spain but were nevertheless felt hard done by after being denied a win against Spain following the intervention of VAR.
"We needed this [VAR] in the last game," keeper Munir Mohamedi told Moroccan website Hespress. "There was an error in the goal when Portugal scored against us.
"They did not treat us in the same way. They did not look at the VAR and they did not look at the screen to confirm that there was an error. Because of this we complained."
Morocco midfielder Faycal Fajr added: "The video technology was not used in our interest in the game against Portugal, and it was used against us ahead of the Spain equaliser. Despite this, we don't want to look for excuses."
'Farcical and shambolic' - the pundits
Former England striker Alan Shearer discussing Iran 1-1 Portugal: "That was farcical, shambolic. The referee is a very lucky guy. If Iran score at the end it would have been absolute chaos. He was hopeless today.
"How on earth can he think that is a penalty?
"It is ridiculous. How can the defender do anything about that? He is half a yard away and his eyes are closed. There is no way on earth that is deliberate handball.
"You are playing in the biggest competition in the world and it seems like VAR is on trial and it is not right."
Former Chelsea striker Didier Drogba added: "I am a big fan of VAR because it is going to clear up a lot of situations, but at the same time it is bringing a lot of controversy. You need to find the balance and we are still looking for that.
"You see the time it took him to have a look and make the decision. We all thought it was not a penalty because he had to review it a few times before awarding it.
"There is controversy because it is the referee who decides, so we will still criticise whatever decision he makes."
Former Manchester City full-back Pablo Zabaleta: "I like VAR and if you get it right, that is great. What I did not like is the players' behaviour - they are acting too much. After little contact, they were rolling around the floor, complaining to the referee."
What you said
Rhys: Personally I'd give the captain three VAR requests per game each. If they waste them, tough luck... the "clear and obvious" error rule doesn't work cause you have to check so many to see if it is clear and that's questionable so 50/50s get over turned. Cap it I say.
Alex Haworth: I still love VAR and think the pros of it far outweigh the cons.
Colin Macdougall: I think VAR was brought in too soon at this tournament. Should have been left till 2022. See if it's a success by then.
Neil Holloway: VAR is bad, the way it's used at the minute, but the most pathetic thing at this World Cup is the players falling down holding their faces and just about every other part of their body play-acting. Do they not understand how pathetic they look? Ruining football.
Amosgyan: After watching the Portugal v Iran game, if VAR is the future of football then I give up. It is no more the game I love. Not exciting to watch. Boring. It's a disaster. Football at its worst stage.
Ben: VAR, what is it good for? Absolutely nothing.
@mr_navit on Twitter: "It seems that two things will lead to a decline in football and the World Cup. One is VAR and the other is 48 teams."
@Persian_George on Twitter: "After the referees watched the VAR they realised that Ronaldo should receive a red card. They understood at that moment that if Ronaldo is not playing the next game FIFA will lose all its commercial and sponsoring revenues."
Abdel Bel on Twitter: "VAR!!!! Fifa (Football Isn't For Africa)."
What the papers said: