World Cup 2018: Has the Simpsons predicted a Mexico & Portugal final?
Last updated on .From the section World Cup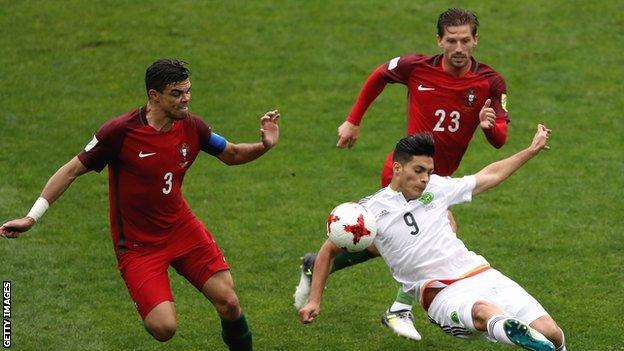 Mexico and Portugal fans have begun to wonder if they are destined to reach this year's World Cup final - because of a Simpsons episode from 1997.
Social media users have now focused on an earlier episode featuring a game "to determine which nation is the greatest on earth, Mexico or Portugal?".
There also appears to be a link to the Mexico team from earlier this year.
Portuguese newspaper Eco reported: "Although there is no clear indication of what year the match takes places in, one detail has led viewers to believe that it's the 2018 World Cup final.
"There seems to be a reference to the scandal that recently plagued the Mexican team who allegedly partied with several women before the beginning of the tournament."
The Mexico-Portugal match features in 'The Cartridge Family', the fifth episode of season nine.
It could still become reality after Portugal's dramatic draw with Iran on Monday which saw them finish second in Group B, putting them into the top half of the draw for the knockout stage.
Mexico currently top Group F and if they win the group they will be in the bottom of the draw, meaning they cannot meet Portugal until the final.
If that happens, one Twitter user promised to get the Simpsons shaved into his hair. Another said: "I get it now. Ronaldo missed the penalty so we could end in second place and fulfil the Simpsons' prediction."