Shop owner Stephen Baxter buys into full-time management at Crusaders
By Mark Sterling
BBC Sport NI
Last updated on .From the section Irish
It's a Wednesday morning and almost the entire Crusaders first team squad is training at Seaview.
The players had breakfast together at the ground beforehand and will gather for lunch after the session.
This is a snapshot of the new regime being heralded on the Shore Road as the Irish Premiership champions take the bold step of introducing a more full-time set-up at the club.
The new working week for the Crues will involve training on Monday, Tuesday and Wednesday mornings, as well as the traditional Tuesday and Thursday night sessions.
"It's been a natural progression as the club has got bigger," explained manager Stephen Baxter on what was the first morning session to take place.
"We first discussed it 18 months ago, so a lot of planning has gone into it.
"We've had to look at the financial structure and renegotiated contracts with the players.
"The most important thing for me was that all the players bought into it, with most of the squad able to do the weekday sessions."
And what of the rest of the Irish League - could more clubs take a similar approach?
"I expect they might," he said.
"We (the Irish League) have been too used to doing it Tuesday-Thursday-Saturday and just hoping we will produce superstar players.
"I've spoken at length to Stephen Kenny (manager) at Dundalk who've enjoyed success from a similar move in the League of Ireland and he has been very helpful."
Risk? What risk?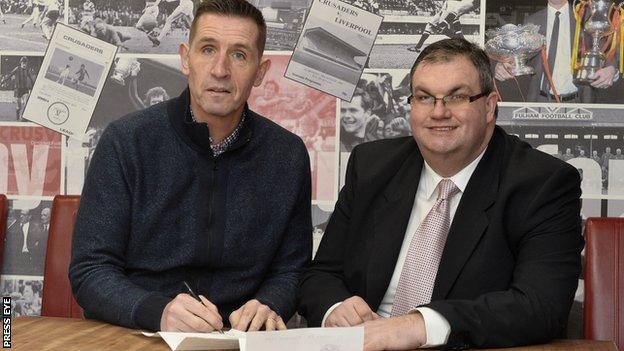 Given the investment required to fund a step into what is relatively unchartered territory in Irish League terms, the element of risk involved for the club must be significant.
On a personal level, however, Baxter perhaps has as much to lose as anyone.
He has closed the Newtownards sports shop he owned for 21 years to sign a five-year contract as full-time Crusaders manager.
"I was trying to balance two jobs but something had to give," he explained.
"You can no longer fit it in to one and a half hours on a Tuesday and Thursday night."
Don't try and tell him he's taking a risk, though.
"Risk has never been something I've been interested in or worried about," he said.
"You give of your best and, if it all tumbles down, I'll go and pick up a paintbrush or do something else."
Working nine to five
Baxter is still trying to gauge how his working day as a full-time manager will shape up.
He is sure of one thing, though: "I can't sit still for five minutes, I'll invent work where there is none."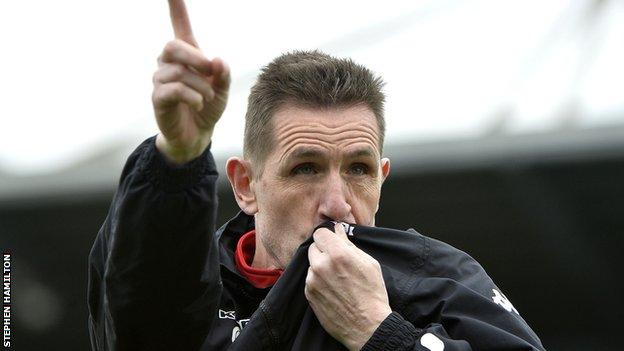 He doesn't envisage having to invent too much, however.
"The players will have gym sessions, cool down sessions and pitch sessions, and I will now have more time to prepare.
"We've invested heavily in technology and all the players are wearing the GPS vests for training which I can monitor more closely.
"A big thing will be being able to watch a lot more videos of our opposition. This afternoon, for example, I'm going to watch a Ludogorets (Crusaders' upcoming Champions League opponents) game.
"I'll be speaking to players about contracts, meeting sponsors and meeting with the local schools. There'll be plenty to do."
Still 'light years' from Ludogorets
While keen to stress that the short-term impact of extra training will not be huge, Baxter is confident the move will help the club grow further.
"We are not going to see a huge difference immediately just because we are going from two sessions to five."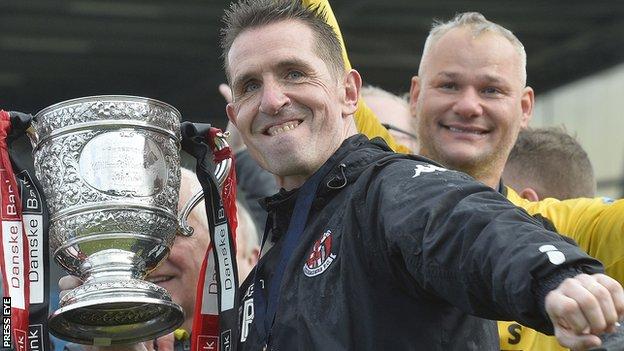 Context is also important to the former Crues striker, with the comparison to Bulgarian champions Ludogorets one that he makes in a bid to illustrate this.
"They have been on a two-week pre-season training camp in Austria," he explained.
"That's the difference in terms of the level of money being spent.
"People talk about £600,000 or £700,000 as if it's a huge fortune, but we are still light years away from the big clubs."
'Not on millionaire's row'
It goes without saying that the move to a more full-time set-up could not have come without significant investment from the club.
This has been funded, largely, by the club's recent European campaigns, with the Crues set to earn a further £700,000 at least from European competition this season.
Baxter is also keen to highlight the £1.2m McDonald Centre that will provide a new gym, sports cafe and cultural centre at Seaview when it is completed later this year.
"Money comes as a reward for doing well and this club has earned the right (to make this move) through hard work and determination.
"We will continue to be wise and not splash the cash.
"We know we're not on millionaire's row just yet."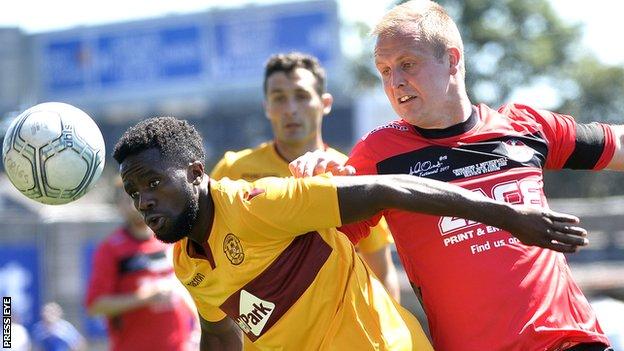 Next stop, Austria?
So, what's the end goal for Crusaders? Is it for the club to totally go full-time?
"We have come from being a relegated club and, as you grow, you're always looking to improve," he added.
"We'll see where that takes us. Maybe in a few years' time we can go to five-days-a-week training or take the players to a training camp in Austria for pre-season."
That's for the future. For now, though, there's a video of Ludogorets to watch.
After all, it's not like he has to get back to manage the shop any more.