World Cup 2018: Japan go through but final group game ends in 'mind-boggling farce'
Last updated on .From the section World Cup523
2018 Fifa World Cup on the BBC
Host:
Russia
Dates:
14 June - 15 July
Live:
Coverage across BBC TV, BBC Radio and BBC Sport website with further coverage on Red Button, Connected TVs and mobile app.
It was the "mind-boggling" finish to a game that "tainted" the World Cup.
But that does not tell the whole story.
What happened?
Japan and Senegal came into their final games level on points, goal difference and goals scored. Were that still the case at full-time, fair play would decide which team finished highest. Senegal had five bookings in their first two games to Japan's three.
When both sides fell 1-0 down - and having been shown one yellow card apiece - Japan were on course to qualify. But they knew a second goal by Poland, who were already eliminated, or two bookings or a red card could knock them out.
So, with about 10 minutes to go, they decided to stick rather than twist - gambling on Senegal not eliminating them by scoring an equaliser against Colombia.
In scenes reminiscent of West Germany's infamous 1-0 win over Austria in 1982, Japan and Poland saw out the game at walking pace.
Despite having attacking players such as Keisuke Honda and Shinji Kagawa on their bench, Japan brought on midfielder Makoto Hasebe, their captain, for forward Yoshinori Muto and sat deep.
They passed the ball around their defence and midfield when they had it, never crossing the halfway by more than a few yards. They let Poland - for whom this was a first win of the tournament - play in non-dangerous areas.
The crowd booed and whistled - just as they had 36 years ago when the 'Disgrace of Gijon' eliminated Algeria. Following that controversy, group stages were changed so the games finished at the same time.
After the game in Volgograd ended, Japan's players, manager and fans had to wait for about a minute to get confirmation their gamble had paid off, Senegal had not scored and they were through to face Belgium.
What did they say?
Japan coach Akira Nishino said "it was a very tough decision".
"We did not go for victory but we just relied on the other match," he said. "That was slightly regrettable but I suppose at that point I didn't have any other plans.
"I am really not happy about how we played but... we wanted to go through to the round of 16 and we have, and that is the only salvation that I get."
Nishino said he passed on instructions when he sent on midfielder Hasebe - no risks and no yellow cards.
"What if we conceded another goal and it was 2-0?" he said. "We went through. Therefore perhaps it was the right decision."
The graphics which show how the game almost stopped
Opta's touch map below shows just what happened from the 80th minute onwards.
Japan, on the left, did not enter Poland's final third once. Poland's two touches in the box were a blocked Artur Jedrzejczyk header in the 82nd minute - the final incident of note in the game - and a header from a long throw-in.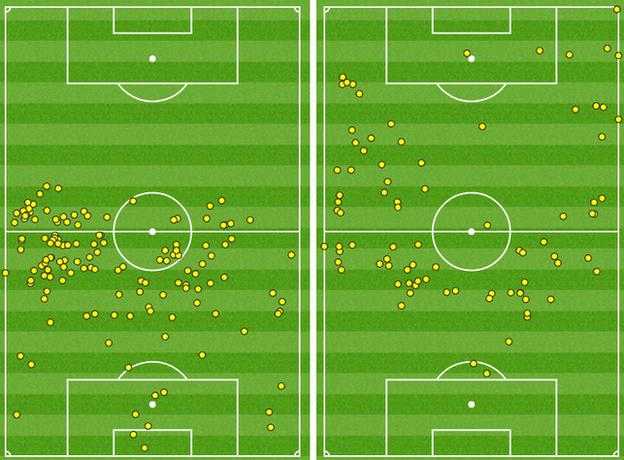 In the final five minutes, 86.5% of possession was in the central third of the pitch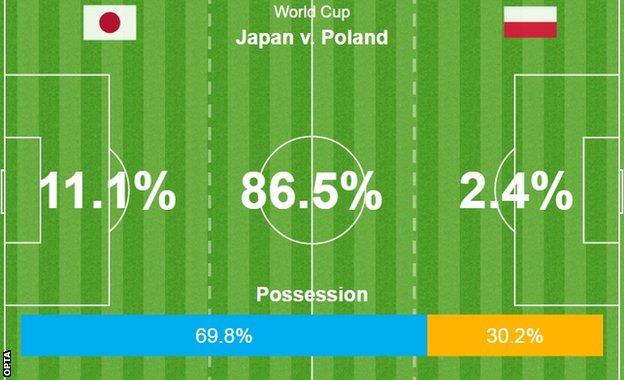 And Opta's feed - which shows shots, fouls and corners - had nothing to report between the 82nd minute and full-time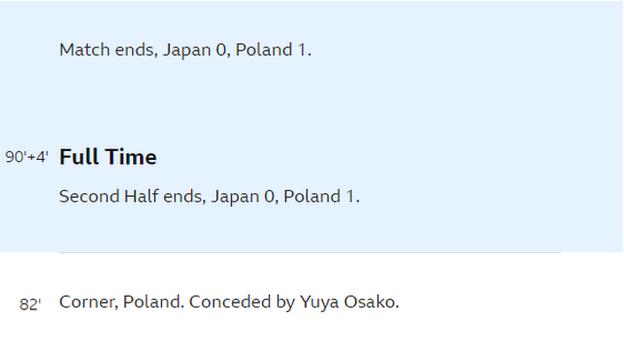 'I hope they get battered now' - what did BBC pundits say?
Former Everton midfielder Leon Osman on BBC Two
That was embarrassing the way the teams went about that final 10 minutes. It was everything we don't want to see in the World Cup. It turned into a farce.
They brought on midfielder Makoto Hasebe for a centre-forward in the 81st minute, and he was slowing the game down. He kept highlighting the fact that his team were winning on yellow cards and told all his team-mates to slow down.
It really set the tone for the last five or six minutes of the game. Both teams sat back and didn't really want to press the ball. It fizzled into a really poor ending.
Northern Ireland manager Michael O'Neill on BBC Two
It takes you back to watching games from 1982, 1986. We saw Austria and West Germany play out a game like that for even longer.
It is mind-boggling for me as a coach to leave your whole destiny in the hands of what can happen in the other game.
I developed a soft spot for Japan, but I hope they get battered in the next round.
BBC Two co-commentator Mark Lawrenson
It was a very poor game first of all, and turned into a farce.
There has to be a better way of settling a table in the World Cup. It should be on goals in qualification because that is the most important thing in football. Anyone can get booked.
It is actually embarrassing on Fifa.
[After a Japanese player did a stepover with no Polish player near him] We shouldn't laugh but it's become an absolute farce. The ref is waving, what's he waving at? He can't make them play.
Former England captain Terry Butcher on BBC Radio 5 live
This leaves a bitter taste in the mouth. It must be a horrible way to go out of a World Cup. It's a disgrace.
It's been a marvellous World Cup. It's just been a bit tainted by Poland and Japan doing that.
Former Scotland winger Pat Nevin on BBC Radio 5 live
If they didn't get away with it, you'd laugh at them and say it serves you right. They took a gambler's chance.
I never like to see a game of football played like that. But had they gone forward and conceded again - and gone out, they'd be called naive and stupid.
The reality is now and again a strange set of circumstances comes up and they took a chance. Had Senegal scored, they were stuffed.
BBC Radio 5 live commentator Conor McNamara
This is going to be much discussed. This is why they play the final group games concurrently. They're not running. Two Japanese players are just rolling the ball to each other - there's no Polish player within 15 yards.
That famous Germany v Austria game - that is the sort of farce this game descended into for the final 15 minutes. But all with the jeopardy that didn't exist in 1982.
The risk Japan took here is bringing this game to a halt. If Senegal had scored, Japan were out and they'd have wasted all that time. They've gone through on fair play. But can you call that fair play? Is that the spirit of the competition?