World Cup 2018: England v Colombia tickets selling for £513 - or more
Last updated on .From the section World Cup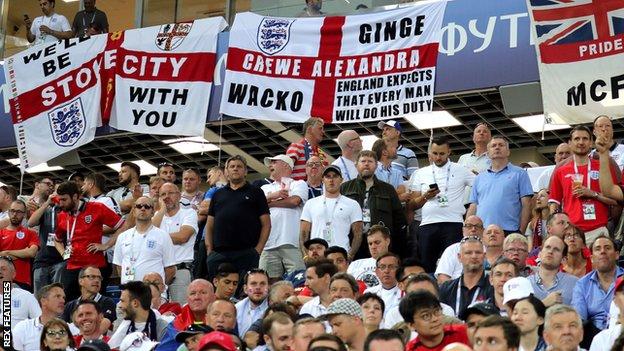 England v Colombia
Venue:
Spartak Stadium, Moscow
Date:
Tuesday, 3 July (19:00 BST)
Coverage:
Live on BBC Radio 5 live, live text commentary online, mobile, the BBC Sport app and Connected TV. Highlights online on full-time.
England fans could face paying huge sums for Tuesday's World Cup last-16 game against Colombia, with touts selling tickets for more than five times their value.
With interest rising among supporters who initially decided to stay at home, prices have spiked as fans scramble to get to the match in Moscow.
BBC Sport is aware of touts in Moscow offering tickets for $900 (£685), while touts on Facebook have also offered England fans tickets for up to £681.
And despite Fifa filing a criminal complaint against Viagogo, tickets on the website for Tuesday's game were selling fast.
Category three tickets - the cheapest available to non-Russians - are being sold for as much as £360 when the official Fifa price lists them as £83.
Category one tickets - the most expensive at about £177 face value - were on sale for £513 through the website, meaning fans could pay £336 extra, or three times more.
So how do you get a ticket legitimately?
Approximately 1,500 supporters have purchased tickets through the England Supporters' Club.
They were allocated their tickets by the Football Association back in February. Fans on the waiting list will get offered a ticket if an existing ticket holder chooses not to go.
However, significantly more fans are likely to be in the stadium having purchased tickets through other official channels like Fifa. Those fans would have bought their tickets before knowing if England were involved in this last-16 tie.
Fifa have sold more than 1.1 million tickets directly to supporters around the world and resold a further 87,609 tickets.
How many England fans will be in Moscow?
The England Supporters' Club says that about 5,500 England fans have arranged travel to Russia through them.
But the Football Supporters' Federation told BBC Sport that a significant number of fans have contacted them since the start of the tournament with the aim of heading over to Russia to sample the atmosphere at the finals, even if they will not get to watch from inside the stadium.
There could also be a number of England fans who had tickets for other games in Russia - 13,120 Fan IDs (which act as visas) have been issued to British-based supporters, according to the Russian Ministry of Telecom and Mass Communication.
Meanwhile, Fifa says 34,235 tickets have been sold to buyers from England - the 10th highest of all countries.
Colombians were third on the list with a total of 68,667, over twice as many as England.
But what about a visa?
Impromptu travel to Russia can usually be difficult, because of the lengthy process of getting a visa.
But fans with tickets can speed up that process massively, by using their ticket to get a Fan ID, which provides visa-free access to Russia during the tournament and offers free travel on matchdays in host cities.
Submissions made to the website are typically processed within minutes but fans are already expected to hold a ticket for the finals before applying.