World Cup 2018: Wild celebrations across Russia after hosts beat Spain
Last updated on .From the section World Cup381
Russia woke up across its 11 sprawling time zones to a new national hero on Monday.
In a land where goalkeepers are revered, Russia's number one Igor Akinfeev inspired the World Cup hosts to an unlikely penalty shootout victory against highly fancied Spain.
The result sparked wild celebrations across Russia, as Patrick Jennings discovered while watching from a bar in the southern city of Samara.
The toast was to victory - "our victory" - and to "Lev Yashin the goalkeeper, our greatest ever player".
Dima's voice was already hoarse before extra time even got started in this sweaty Samara bar where the air temperature was about 32C and the atmosphere was even hotter.
The mood was optimistic but still probably nobody among the packed crowd would believe it if you told them: in 20 minutes' time, Igor Akinfeev will write his own new heroic chapter for Russia, the World Cup hosts who were so widely expected to fail before this special tournament started.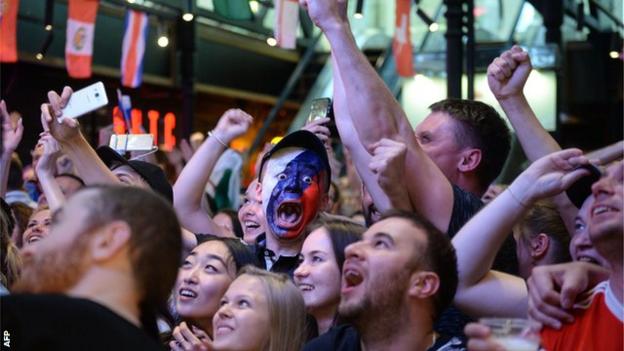 Now they are in the quarter-finals for the first time in 48 years after a dramatic penalty shootout win over 2010 champions Spain in which CSKA Moscow goalkeeper and Russia captain Akinfeev saved two spot-kicks.
His second stop sealed the victory and provided a moment of realisation that said yes, there would be a new crescendo in the wave of optimism that has been building here since Russia's two sweeping group stage wins made everyone sit up and take notice.
"It's unreal, I can't believe it," Dima said as he was swallowed up by a group of friends that included two Mexicans. He described them as "our lucky charms".
A woman to my right could not believe it either. She had been watching the climax of Sunday's match with her hands covering her mouth and as the TV screen showed Akinfeev mobbed by his jubilant team-mates she breathed deeply and turned unsteadily towards the door, finally ready to release humming nervous energy into total joy.
Everyone else spilled into the streets too, out from whichever place they watched.
When the match was under way all you could hear outside was birdsong and a few distant cries from some faraway open window.
Now it felt like the whole city was celebrating. Children with mouths dropped open and eyes spread wide watched their parents dance with strangers and get doused in beer.
The Mexican and Brazil fans, whose teams play a last-16 tie here on Monday, were part of it too as women in traditional dress hauled dancing partners in from the sidelines and towards the centre of a street ruled by their accordion players.
Samara's old centre had been shut down and now the hordes of delirious locals were taking over. Is it all for one night only? Croatia will be next.
A speaker system outside a bar started up a Shakira song - appropriate given she is Spain defender Gerard Pique's wife - while a few hundred yards away a string quartet played Lady Gaga's Bad Romance and nobody cared what tune they were moving to.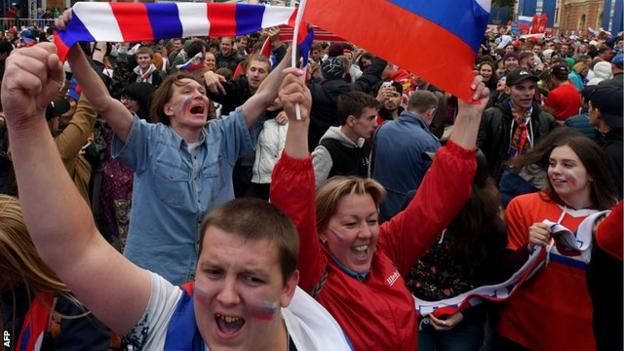 But all of that was drowned out by the cars honking constantly at each other as they drove round and round the perimeter roads.
Passengers shouted "ROSSIYA!" while holding flags to the wind and leaning deep towards the sun setting on the Volga down below. Bedtime would be late for everyone.
What I think of this Russia team has often been the first question put to me in each of the seven host cities I've visited during this tournament.
It has either been that, or whether British people really think bears can be found roaming Russian streets.
So many of those wanting to talk football started out by saying they actually had no interest in the game whatsoever but had nonetheless found themselves carried away by the country's growing good feeling.
Expectations and interest before the tournament were low - but as manager Stanislav Cherchesov said in early June, half the nation would only wake up to the World Cup once it was under way.
Everyone is watching now. People tell you about their 90-year-old grandma who suddenly became an obsessive after the second group game, a 3-1 win over Egypt that sealed Russia's place in the knockout stage.
It is a special mood that perhaps only a host nation can experience. Like England at the European Championship of 1996, it is a mood that will only grow stronger as the tournament goes on. We shall see how far it carries.
It was in Mexico in 1970 when Russia or the Soviet Union last reached the quarter-finals of the World Cup.
Yashin - the great Soviet icon still so revered in this country, the only goalkeeper to win the Ballon d'Or - was part of that squad but did not play, already nearing the end of his great career.
Almost everyone out in the street in Samara on Sunday would have no memory of that tournament run, which was ended by an extra-time defeat by Uruguay.
But the hairs stood up on the back of your neck as you realised - the whole country will be like this tonight. The world's largest nation, experiencing the birth of a new chapter in its football history, 144 million people and just as many smiles.