England v Sweden: Harry Maguire's brother joins fans travelling for World Cup quarter-final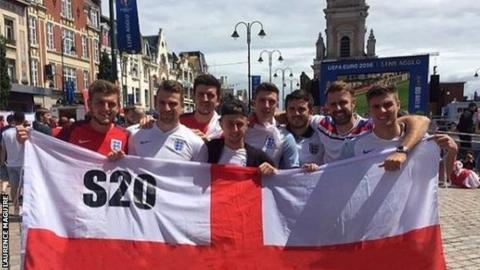 2018 Fifa World Cup quarter-final: Sweden v England
Venue: Samara Arena, Samara Date: Saturday 7 July, 15:00 BST
Coverage: Live on BBC One and online; full radio commentary on BBC Radio 5 live and text commentary and in-play clips online and on BBC Sport app
Struggling to get out of work this weekend for the England game? It's not a problem for Laurence Maguire, but it probably helps that his brother Harry will be playing for the national team.
With just 48 hours until the quarter-final against Sweden, Chesterfield defender Laurence has been given permission by his club to miss their pre-season friendly against Sheffield FC on Saturday and travel to Russia.
The only stipulation, according to manager Martin Allen, is Laurence, 21, has to be back for training on Monday.
"It's great for our club that one of our players is going to be watching England play," said Allen, boss of the National League club.
Laurence will be among an influx of fans heading from the UK to Russia for the game, while many more, already in the country, are navigating the mammoth journey from Moscow to Samara.
Are tickets still available?
On Thursday morning, Fifa's website showed category one tickets, costing £261, were still available for the game at the 45,000-seater Samara Arena.
There were also a limited supply of category two (£182) and category three (£125) tickets on official sale. Hundreds were available on ticket resale sites, ranging from £194 to £5,614.
The Russian National Tourist office was still offering hospitality packages starting at £868 - which includes a category ticket, food and drink.
Visitors from the UK to Russia usually need a visa, which takes at least 72 hours to process - no good when the match is on Saturday.
Fortunately, fans can use their ticket reference number to get a Fan ID, which provides visa-free access to Russia during the tournament and offers free travel on matchdays in host cities.
What about getting there?
There is no direct flight from the UK to Samara, a city 530 miles south-east of Moscow most famous for helping drive the Soviet Union's space race with the United States.
The easiest route seems to be flying from London, via Moscow, Helsinki or Istanbul.
According to Travel search site Skyscanner, the best flight will cost you £575, flying from London Heathrow on Friday lunchtime and arriving via Moscow's Sheremetyevo airport into Samara in the early hours of Saturday.
Samara is a one hour and 40 minute flight from Moscow and there are still flights available starting at £240, while a 16-hour train ride starts at £127.
Travel journalist Simon Calder told BBC News: "You can do it cheaper if you get a flight to Moscow and then get the train from there, though 13 hours is the fastest train and you can save money on accommodation as you can catch the night train on the way back.
"But it's 23 hours and there are only third-class tickets left at the moment."
Accommodation is still available in Samara for Saturday night, some rooms starting from as low as £9.
What about the fans already in Russia?
England fans on Twitter have been sharing experiences of their challenging trip to Samara.