Zambia name Belgian Sven Vandenbroeck as new coach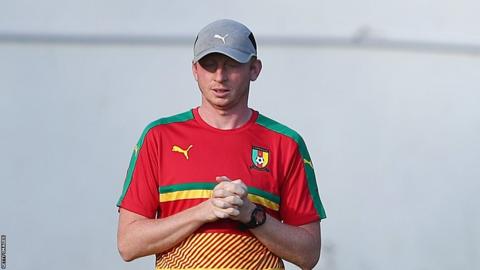 The Football Association of Zambia (Faz) has appointed Belgian Sven Vandenbroeck as their new coach.
The 38-year-old replaces Wedson Nyirenda who resigned in May to join South African side Baroka FC.
Vandenbroeck was assistant coach for Cameroon when they won the 2017 African Cup of Nations.
"We have confidence that he should be able to deliver to the expectations of Faz, the team and people of Zambia," the association's acting general secretary Adrian Kashala said.
"Sven's record and experience in Africa is very good. He was the top choice of those that were considered."
"He is an Afcon winner with Cameroon, ambitious, young, well qualified, eager for the huge and exciting challenge that the Chipolopolo job provides.
"His passion and commitment to bring success to the Zambia national team is not in doubt."
Vandenbroeck has been tasked with qualifying Zambia to next year's Nations Cup in Cameroon and the 2022 World Cup.
The 2012 African Champions failed to qualify for last year's tournament and began the 2019 qualifiers with a shock 1-0 loss to visiting Mozambique.
The new coach's first competitive match will be a trip to play Namibia in another Nations Cup qualifying tie.
The other team in Group K is Guinea-Bissau, who made their debut at the Nations Cup in 2017.
The length of his contract has not been disclosed.