Rangers urge SPFL chairman to stand down over alleged conflict of interest
Last updated on .From the section Rangers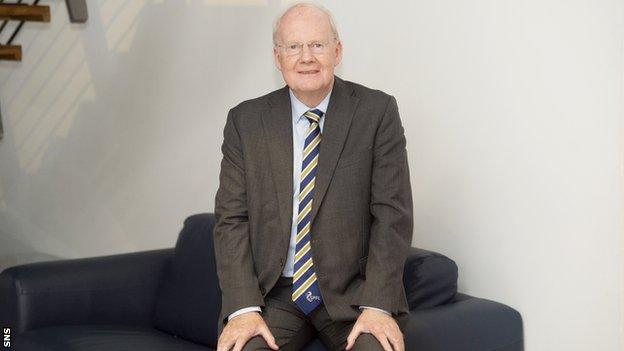 Rangers have called for Scottish Professional Football League chairman Murdoch MacLennan to leave his post.
The SPFL previously rejected the club's calls for MacLennan to be suspended over alleged business links to Celtic shareholders.
In a statement, Rangers said the SPFL should have agreed to an independent investigation into the issue.
It read: "Rangers is left with no alternative but to call for Mr MacLennan to stand down."
In May, Rangers chairman Dave King called for MacLennan to be suspended and for an alleged conflict of interest to be investigated.
A newspaper report said MacLennan has business links to Celtic shareholders. However, at the time, the SPFL said no investigation was "warranted".
'Clear scope for conflict of interest'
The governing body added: "It's not surprising that Murdoch, having stepped down as deputy chairman of Telegraph Media Group, should be approached by other businesses in that sector.
"The members of the SPFL board were each informed of Murdoch's appointment on January 19 2018, the same day it was publicly announced in a press release from Independent News & Media PLC. That release was also circulated to the entire SPFL board that day.
"The appointment was widely reported in the national media at the time, including in the Sunday Times, Belfast Telegraph and Sunday Independent. No director raised this issue subsequently and it was not the subject of any board discussions.
"To be definitive, a non-executive position on a PLC does not constitute a business relationship between that individual and a minority shareholder in the company and therefore no investigation is warranted."
Rangers say it is "surprising" that "Mr MacLennan does not recognise and acknowledge that there is clear scope for conflict of interest between the duties owed by him to the SPFL and its shareholders and the duties he now owes to INM and Mr [Dermot] Desmond and Mr [Denis] O'Brien as INM shareholders".
The Ibrox club added: "Rangers believes that Mr MacLennan cannot be considered fit and proper to continue in his role as SPFL chairman as he is now obliged to recuse himself from meetings and decision-making processes which could impact on member clubs. The SPFL needs a chairman that can openly participate in all meetings."
The SPFL "notes the contents of Rangers' latest press release. The board has already made its strong and overwhelming support for the chairman very clear and we consider the matter closed."