Thai cave rescue: Fifa, Man Utd & Kyle Walker offer support to young players
Last updated on .From the section Football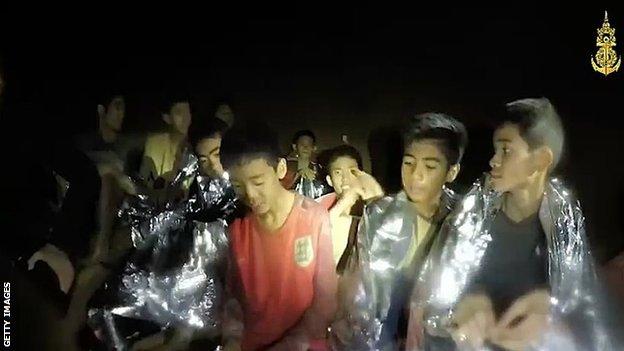 The 12 young footballers freed from a cave in Thailand have been offered the chance to attend the World Cup final but are too ill to travel, Fifa says.
Divers completed the rescue of the Wild Boars football team and their coach on Tuesday, 17 days after they got trapped underground.
Offers of support have come from across the world, with Manchester United offering the chance to attend a game.
England's Kyle Walker and Jack Butland have offered to send kit to the boys.
Those offers have come after one of the boys rescued was pictured wearing an England shirt.
In addition, Spanish champions Barcelona have invited the team to play in their international academy tournament next year and watch a first-team game at the Nou Camp.
Fifa had invited the boys to fly to Moscow for Sunday's World Cup final, but said they would not be able to go as they needed time to recover.
"Our priority remains the health of everyone involved," Fifa said.
"We will look into finding a new opportunity to invite the boys to a Fifa event to share with them a moment of communion and celebration."
The boys entered the caves on 23 June during an excursion with their coach, with heavy rains causing flooding and cutting off their route out.
Rescuers brought out the first of the group on Sunday, with the last brought out by divers on Tuesday evening.
"We would love to welcome the team from Wild Boars Football Club and their rescuers to Old Trafford this coming season," said a Manchester United statement.
Manchester City defender Walker, part of the England side who have reached the World Cup semi-finals in Russia, said: "Amazing news that all of the Thai kids are out of the cave safely! I'd like to send out shirts to them."
Goalkeeper Butland, one of Walker's England team-mates, added: "Really glad everyone is safe! I'd like to join and send over some gloves for you guys as well!"